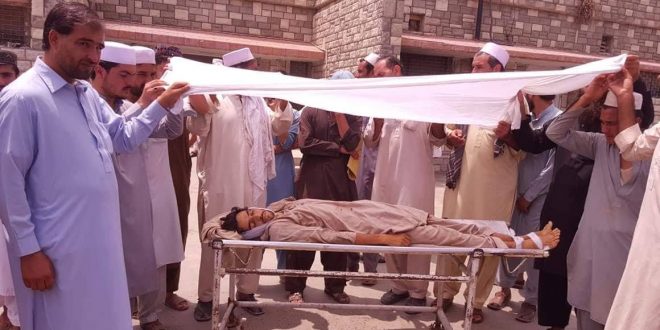 Shamsul-Amin Pirzada
LANDIKOTAL: Family members of a young man, who had been fall from mountain and died in hospital, observed protest against the ignorance of doctors of Agency headquarter hospital in Landikotal.
Rahman,30,was busy in digging stones for construction in Sheikhwal area fall from mountains. He was rushed to district headquarters hospital in Landikotal.
According to family member they brought the injured person but doctors in emergency unit were not present on duty.They said other health staff at the emergency ward also disappeared from duty to provide medical care to the injured man on time.
The family members accused that an unprofessional man,who was not the qualified health staffer, did an injection that reacted and killed the man.
Meanwhile, dozens of family members put the coffin of the ill fated man at the main gate of the hospital and staged protest demonstration. They chanted slogans against the health staff and demand judicial inquiry of the tragic death of a young man.
The protesters also accused that Khasadars deployed for the hospital security also tortured them and used abusive language.