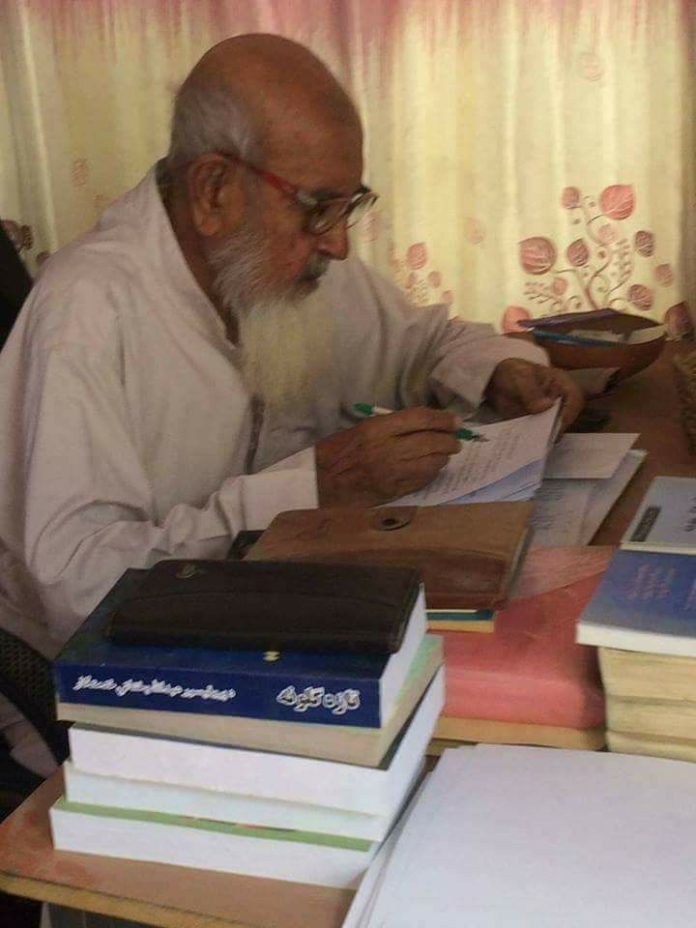 Fata Voice News Agency
TORONTO: Afghan Network for Social Services (ANSS) Canada, staff is very pleased in accomplishing a very pride and distinguished task, by organizing a commemoration event for recognition of late Legendary Afghan writer, thinker, poet, journalist and lifelong community advocate Abdullah Bakhtani Khidmatgar Khidmatgar (1925-2018).
Abdullah Bakhtani Khudai Khidmatgar was a great Legendary Afghan writer, thinker, poet, journalist and lifelong community advocate.
Afghan Network for Social Services (ANSS) Canada, Organized a commemoration event to Pay Tributes To Khudai Khidmatgar Abdullah Bakhtani in Toronto.
The commemoration event was hosted by experienced Journalist Mrs. Aziza Siddiqi and young Journalist Mr. Waheedullah Amin and it was officially opened by recitation of verses from the Holy Quran by Mohammad Shafique Tasmim.
Opening remarks were delivered by Zrawar Khan Mufakir, the Executive Director of ANSS; he welcomed the participants, in addition, he spoke about the late Legendary Abdullah Bakhtani, may his soul rest in peace. He also stated that ANSS is in the service of all Afghans in Canada, and is proud that it started it strategic activities with commemoration of such a legendary Afghan.
Following, social activist, Mrs. Soraya Jabarkhail spoke about the biography of Legendary Bakhtani, and mentioned about all aspects of his life and his achievements. Furthermore, Mr. Amanullah Ludin discussed about researches of Legendary Bakhtani, and said that his absence is irreplaceable in Afghanistan, subsequently, Engineer Sayed Ahmad Zia Mazhari spoke about his memories with the Legendary Bakhtani, and discussed memories about his personal and family life.
Additionally, young and energetic Afghan writer and researcher Mr Aimal Khan Yosufzai talked about the publications and researches of Legendary Bakhtani, and concluded that Legendary Bakhtani was a great Afghan influencer.
Afterwards, Son of Alama Qiamuddin Khadim, Mr Roshan Khadim, gave an emotional speech on behalf of National Modern Movement and discussed about political activities of legendary Bakhtani, and concluded Legendary Bakhtani as the sixth star of Pashto literature.
Well-known afghan journalist, Mr Mohammad Ghaws Zalmai gave a speech about media and journalism life of legendary Bakhtani and his influence in the media, and concluded legendary Bakhtani as a national, honest and religious personality. After that, Mr. Mohammad Afghanyar spoke about late legendary Bakhtani and concluded him as an unforgettable all-life Allah's Soldier (Khodaye Khedmatgar). Mr Ehsan Sadaqat said legendary Bakhtani was a friend of his father and appreciated his great achievements. The Pashton Council director, Professor Saraj Khan also appreciated the services of legendary Bakhtani, and said that his students and followers will serve his theories, language and nation.
After that, son of the great poet Ajmal Khan Khatak, a successful journalist Mr Aimal Khan Khatak valued legendary Bakhtani, and said that he was a great personality that not only in Afghanistan, but in other parts of the world; poets, journalists, researchers and writers have remembered him, are saddened over this loss, and have organized a lot of commemoration events.