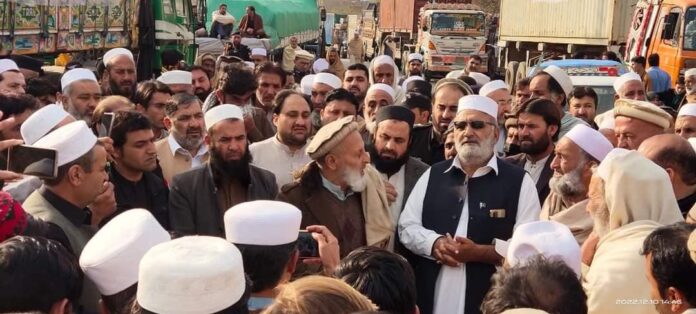 Ashrafuddin Pirzada
LANDIKOTAL: Thousands of tribesmen, parliamentarians, and transporters staged protests and demonstrations at various localities in district Khyber and in Karachi after a video of a Landikotal resident went viral on social media in which he was severely tortured in Kashmore, Sindh, and asked his family to pay ransom to release him from the dacoit's captivity.
In the video, a Landikotal resident named Imran Khan, who works as a driver, is seen without a kameez (shirt) and being beaten with a stick on his back. Imran Afridi was sobbing and lying on the cold room floor.
Hundreds of residents, social workers, family members, and provincial assembly member Shafiq Sher Afridi blocked the road in the Tikya area of Landikotal and suspended all kinds of traffic movement. They were holding black flags and banners inscribed with slogans about the release of truck driver Imran Afridi. They chanted slogans against the Sindh police, the leaders of the Pakistan People's Party, Bilawal Zardari, and Asif Zardari.
Long queues of loaded and empty trucks and passenger coaches could be seen on both sides of the road, which was halted due to the protest.
Dacoits-backed police officials kidnapped driver Imran Khan Afridi and are now demanding Rs 40 million in ransom, according to MPA Shafiq Sher Afridi. He said the driver of the dacoits was a poor man, and he could not pay the huge amount. He accused the Superintendent of Police (SP) in Kashmore, who was involved in this crime, of abduction.
The parliamentarian said if anything happened with the abducted driver, SP Kashmore, Asif Ali Zardari, and Bilawal Zardari would be responsible. He said their protests would continue and roads would be blocked in the Khyber district until the driver safely reached home.
Meanwhile, a large number of transporters, drivers, and residents from Khyber gathered in front of Bilawal's house in Karachi and staged a protest. The protest was led by former parliamentarian and business tycoon Shaji Gul Afridi.
They were of the view that intentionally, Pashtuns were forced to leave Karachi and Sindh. A resident said two persons, including a broker and the driver, were asked to come to Kashmore to purchase a truck, but when they arrived, they took them into captivity. They said the broker was slaughtered on the same day, and his body was dumped on the road.