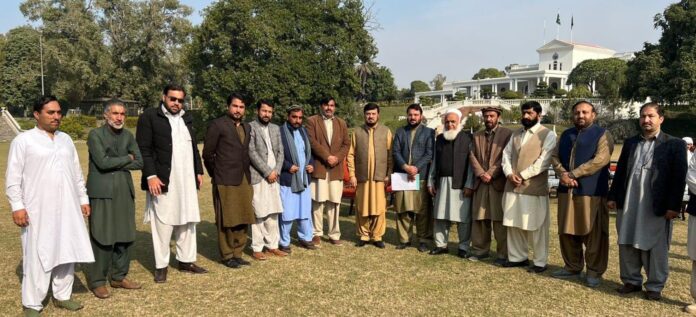 Ashrafuddin Pirzada
PESHAWAR: Governor Khyber Pakhtunkhwa Haji Ghulam Ali said on Saturday that the federal and provincial governments must take serious steps to resolve the tribal journalists' issues and recognize the sacrifices they have made for the homeland in the past years.
Haji Ghulam Ali was talking to a delegation of the Tribal Union of Journalists (TUJ) here at the governor's house. The delegation was headed by Qazi Fazlullah.
Around forty journalists from tribal districts and Frontier Regions (FRs) met the newly appointed governor, Haji Ghulam Ali.

The governor lauded the efforts and sacrifices of journalists and said that tribal journalists shed their blood for the unity and solidarity of Pakistan. He said as constitutional head of the province he would not only appreciate but as governor, he considered the important role of tribal journalists against social evils in society. He said they were aware of the hard life, joblessness, and economic constraints of tribal journalists.
"Only in ex-Fata, 15 journalists lost their lives and dozens were injured in militancy-related incidents while most of them were forced to leave their hometowns, but they did not bow down against evils and anti-state actors," the governor remarked.
Ghulam Ali said he would work to provide the best possible professional and required training for the tribal journalists so that their skills and capabilities could match with the rest of the country's journalists.

The governor asked the tribal journalists to fight for the rights of their districts in developmental funds in the provincial budget. He said journalists should report irregularities to ensure transparency in developmental projects underway in merged districts.
Tribal Union of Journalists (TUJ) Interim Chairman Qazi Fazlullah told the governor that tribal journalists were facing severe problems. He said they always supported the state and worked for peace and development. He said their sacrifices must be recognized at the national and international levels.
The Khyber Pakhtunkhwa governor pledged that he would keep the tribal journalists on board in the merged districts' related matters and would address their problems.