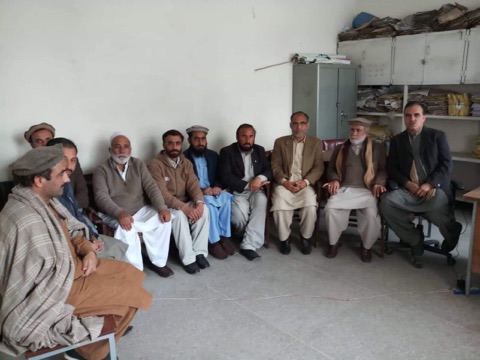 Ashrafuddin Pirzada
LANDIKOTAL:The Schools Officers Association(SOA) and All Khyber Pakhtunkhwa Subject Specialist Association(AKSSA) in a joint announcement rejected the induction of teachers from other KP districts and said that they would give a call for strike if teachers from other districts of the province were transferred into Khyber tribal district.
In this connection, an important meeting was held in Khyber tribal district on Monday in which senior education department teachers and SOA and AKSSA office bearers including Mir Sardar Khan Afridi,Gohar Afridi,Saleem Khan,Abdur Rehman,Nawab Gul,Muhammad Zahid and Abdul Qudoos participated
Speaking on the occasion,Mir Sardar said that it was injustice with the teachers hailing from the Khyber district that Khyber Pakhunkhwa education department posting and transfer teachers from other districts.He said they had worked hard for bringing up the education ratio in Khyber tribal district despite the unfavourable situation in the past. He added that reshuffling of teachers especially subject specialists would create hardship when they would being transferred away from their homes.
The teachers unions leaders asked the government to stop posting and transfer on the political basis.They said posting senior teachers in Khyber tribal district from other KP districts would also cause scarcity of subject specialists in various schools of Khyber Pakhunkhwa where from they were being transferred.
The meeting was told that the KP government had imposed a ban on teachers transfers from one to other district but it was openly violated as so far several teachers were transferred.
They said highly qualified and skilled educational officials and teachers were imparting their important role in the Khyber district education department.Adding that it was a pride for Khyber district education department having internationally trained staff who polished shining stars in the past years.
They demanded of the government to stop posting teachers from other districts into Khyber tribal district which they said a violation of the government rules. They also threatened to fight legally at every forum if their demand was not addressed.