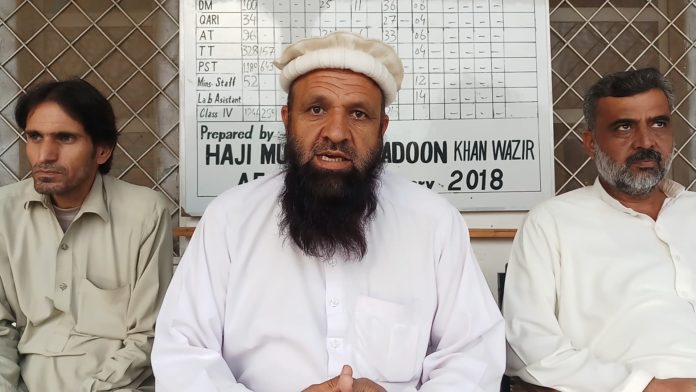 By Ashrafuddin Pirzada
LANDIKOTAL: All Khyber District Teachers Association Friday announced closure of all state-run schools to record their protest after gunmen of a local Amn committee tortured teachers of a state school in Bazaar Zakhakhel area of Landikotal tehsil in Khyber tribal district.
Talking to this scribe, erstwhile Fata districts teachers association general secretary Nasir Shah Afridi said that they held an urgent meeting. He said they have unanimously condemned the unlawful and imhuman behaviour by the Lashkar men. He said three teachers were brutaly tortured by Amn committee members when they excused them to give left to one of them in their car.He said they have formaly informed Khyber district education officer and assistant commissioner of Landikotal to take strin action against the culprits.
Naseer Shah said in the first step they have closed all girls and boys schools in Bazaar Zakhakhel. He said if the authorities failed to take action against the culprrits they would close all schools in Khyber tribal district next week.
"It was a shamful behaviour by the Zakhakhel Amn Lashkrmen who tortured and insulted headmaster and two school teachers in Zakhakhel area",said Naseer Shah. He asked teachers of state schools in bazaar Zakhakhel to keep all schools closed till further decision by teachers' association.
When contacted district education officer Muhammad Jadoon Wazir he said that it was not tolerable act by the local amn committee. He said he would take up the issue with deputy commissioner and other high ups to protect life and honor of teachers performing jobs in a militancy hit area of Zakhakhel. Supporting the teachers stance of school closure Jadoon said his staff would aslo observe strike in the office to record their protest.
It may be mentioned here that three teachers were on the way to their school when they were stopped at a Amn Lashkr check point in Zakhakhel locality and tortured them they denied one of the gunmen to give him left in their car.