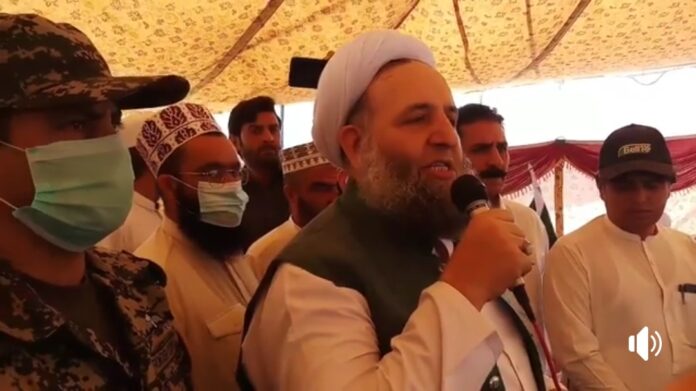 Ashrafuddin Pirzada
LANDIKOTAL: Federal minister for religious affairs and interfaith harmony doctor Noorul Haq Qadri on Saturday said Jawaharlal Nehro wanted United India to keep Muslims under his brutal rule which the tribal elders rejected and threw pebbles on him during his Landikotal visit.
Federal minister doctor Noorul Haq Qadri was speaking at the Zargy Pakistan flag (beloved Pakistan flag) ceremony held here in Khyber Nekikhel village to celebrate the 14th August independence with a great pump and show.
Thousands of residents witnessed the opening ceremony of Pakistan's big flag painted on a hill which was150,000 feet long. The flags took fifteen days to complete, cast 0.5 million rupees.
The ceremony was also attended by frontier corps officials and civil servants.
Dr. Noorul Haq Qadri said independence was a gift from Almighty Allah bestowed to Pakistani citizens. He thanked to almighty Allah that Pakistanis got freedom from Britishers and its predecessors Hindus. He said history revealed that Pakistan's leaders struggled a lot and got freedom after sacrifices.
"Those who are against Pakistan, those who are fabricating conspiracies against our country, and those who support anti-Pakistan elements will find no place in the hearts of erstwhile Fata people", Qadri said.
He said tribals were loyal to their country and love Pakistan. He said tribal people would be side by side with their security forces to defend its geographical boundaries.
Meanwhile, Independence celebrating ceremonies were also held at various schools, Police stations, and other government offices in Landikotal.