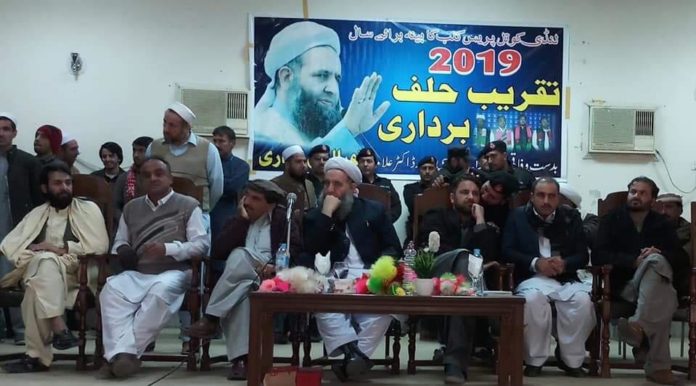 Ashrafuddin Pirzada
LANDIKOTAL: The federal minister for religious affairs and inter-faith harmony doctor Noorul Haq Qadri on Sunday said that until and unless Indians and their agents harbouring on Afghan soil who were busy in making anti-Pakistan plots they could not expect good relations with Kabul.
Dr Noorul Haq was speaking to the oath-taking ceremony of newly elected Landikotal press club cabinet here said that the Afghan government should think that they were being benefited more by India or Pakistan in any field of life.
Qadri said bone of contention with Afghanistan was always the presence of India and its agents on Afghan territory. He urged the Afghan president to come forward and be as a good neighbour so that both countrymen enjoy good relation. He said though he also want free Torkham border with Afghanistan but it was not possible until Ashraf Ghani not expels Indians from his country.
Regarding the tribal journalists, the minister said so far 16 of tribal journalists martyred for the sake of peace in Pakistan. He added that journalists should be neutral and use their profession for the betterment of all. He said journalists were the precious asset of a state and should honestly play their role in their respective regions.
The minister said he had discussed the Landikotal press club issue with the officials and soon the construction work on press club building would get start.
Qadri said he and his party was not against the Fata reforms but termed Fata merger decision as a premature decision taken without homework being done.
He said no proper framework for the merged area's development and had no plans still exists so that tribal people could be given something into their hands.
He said more 20,000 jobs would be created for tribal levies forces in erstwhile Fata residents.
The minister said the former government had no plans for the development of newly merged areas but Imran Khan has already released Rs1.5 billion for the development of tribal regions. He said three provinces were agreed to give Fata its share and National Finance Commission(NFC) and working with the Sindh government for their consent.
Earlier, the federal minister administered oath to the newly elected cabinet of Landikotal press club and announced Rs 250,000 for press club funds.
Khalil Afridi as president, Imran shinwari as general secretary, Shahid Afridi finance secretary and Shahid Shinwari took oath as the vice president of Landikotal press club.