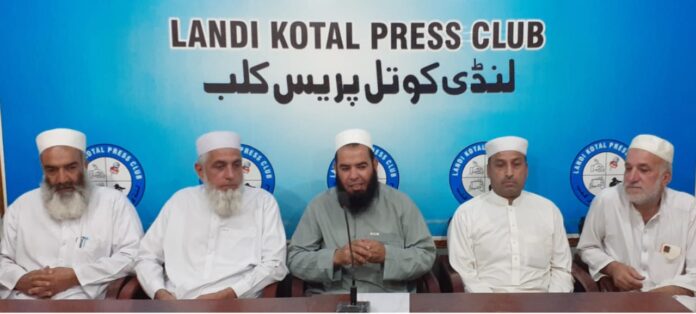 Ashrafuddin Pirzada
LANDIKOTAL: Elected members of local the government and tribal elders on Saturday categorically condemned the social media propaganda campaign against Pakistan Amry and judiciary said that they would not allow anyone to try to defame Pakistan Army who provided them a peacefull country at the cost their lives.
Flanked by a number of local government members,elders and social workers, Tehsil Landikotal chairman Shah Khalid Shinwari told this in a news conference held at district Press club Landikotal.
Malik Tajuddin Shinwari,Malik Asghar Shinwari,social worker Banaras Shinwari,Pakistan People's Party leader Khial Rasool Shinwari,Imran Shinwari,Mustafa Shinwari and Sadar Khan Shinwari were also accompanied the tehsil chairman Shah Khalid Shinwari.
Shah Khalid Shinwari said that some anti-Pakistan elements run their false propaganda against the Pakistan Army and judiciary on social media. He said immoral and hard language was being used against the state institutions which was not tolerable.
Shah Khalid said foreign hands were involved against malicious propaganda compaign against Pakistan and its honorable institutions. He said due to the false and basless propaganda the country had faced severe moral lose in the world.
"The basless propaganda and criticism on Pakistan Amry and judiciary not only hurt the image of Pakistan but it spread contradictions and anti-sentiments between the citizens at every villages and cities"Shah Khalid stressed.
The tribal elders said that fifth generation war had been started against Pakistan which should be takaled with deep seriousness and thinking ideas. They condemned those who did not want Pakistan a prosperous and developed nation.They added that strong institutions was the sole guarantee of a strong and powerful country.
They urged Pakistanis to respect the state institutions and join hands with the Pakistan army to curb all anti Pakistani elements.
Tehsil Chairman and the other speakers also condemned the incident happened in Masjid-e-Nabawee in Saudi Arabia and asked the oversease Pakistanis to focuse on their jobs and businesses abroad and not get involve in the country politics.