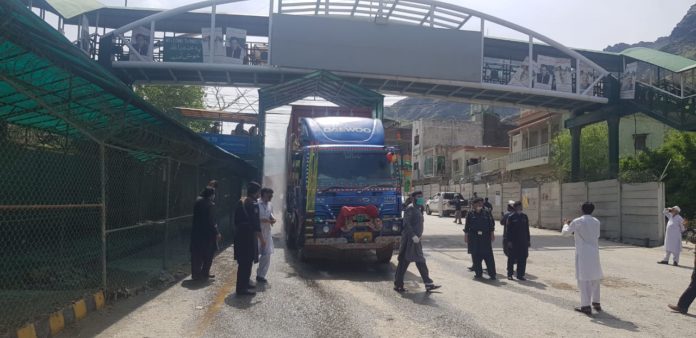 By Ashrafuddin Pirzada
LANDIKOTAL: Custom agents associations office bearers and traders on Sunday said that unnecessary slow documentation process of trucks trasporting goods from and to Afghanistan had caused drastically dropped down the revenue being collected at Torkham border crossing.
Talking to Fata Voice News Agency Torkham custom clearing association president Mirajuddin Shinwari, Sarhad chamber of commerace presudent Shahid Hussain and and Frontier custom association president Ziaul Haq Sarhadi said that the Pak-Afghan bilateral and transit trade have slowed down owing to sluggish clearing process at Torkham border.
They said the unnecessry checking of the trucks at Torkham border and delay tactics has also created traffic problems on Peshawar-Torkham highway.
Shahid Hussain urged the National Logistic Cell (NLC) to increase the number of scanners to accelerate clearance of export, import and transit trade goods vehicles as well as empty trucks to give boost the trade between the two neighbouring countries. He said due to these difficulties traders, importers and exporters were facing financial losses.
Shahid said said the Pakistan custom authorities at Torkham custom house were timely issue gate passes to the trucks but the clearance process of vehicles loaded with export and import goods gradually declining.He said due to slow documents clearance process the less number of the empty vehicles coming from Afghanistan also declined that impacted negatively on mutual and transit between Pakistan and Afghanistan.
Ziaul Haq Sarhadi said the collection of a handsome amount as fee at Shakas check post, Bara and Takhtabaig check posts was illegal. He called upon the authorities to take notice immediately and stop looting the truckers with both their hands.
He said the opening of the Torkham and Ghulam Khan border crossings for trade was widwly lauded but the government must facilitate traders and business communities so that they could enhance trade not only with Afghanistan but they could also reach to central Asian countries and Europe markets.
Ziaulhaq said the government's steps to enhance mutual and transit trade with Afghanistan and Central Asian Countries would be proved fruitful by removing hurdles in the way of trade between the two countries.He also demanded of the government to release required funds for NCL terminal at Torkham border to complete this important project in the stipulated period.
President of Torkham custom association Mirajuddin Shinwari said the fares of vehicles from Karachi to Torkham have surged up from Rs400,000 to Rs600,000 owing to non-availability of transport facility. He feared that under the prevailing scenario transportation charges from Peshawar to Torkham would also be increased from Rs50,000 to Rs80,000.
He said due to hard and fast rules at Pak-Afghan border the Afghanistan largest market was going to shift to Islamic Republic Iran and other countries.He said it would also put adversed impacts on Pakistan's economy and foreign exchange.
Shinwari demanded of the Prime Minister Imran Khan to issue instructions to address the Pak-Afghan mutual and transit trade issues and to enhance the country's exports to Afghanistan and central Asian countries.