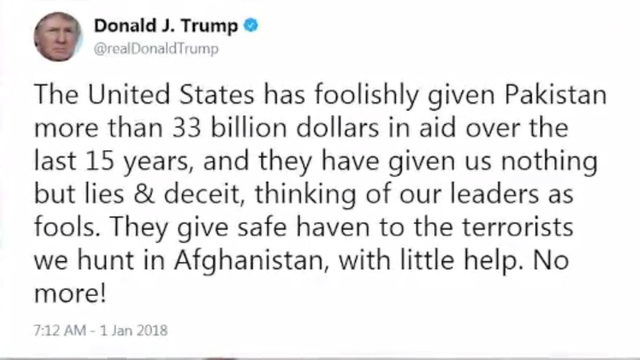 TORONTO: US President Donald Trump in a New Year's on Monday morning accused Pakistan of "15 years" of "lies and deceit" and ripped past U.S. administrations for working with its government.
US President Trump tweeted that "The United States has foolishly given Pakistan more than 33 billion dollars in aid over the last 15 years, and they have given us nothing but lies & deceit, thinking of our leaders as fools,".
"They give safe haven to the terrorists we hunt in Afghanistan, with little help. No more!"
Pakistan's defence minister fired back at Trump on Monday, accusing the U.S. of giving Pakistan "nothing but invective and mistrust" over the last decade and a half.
"[Pakistan] as anti-terror ally has given free to the US: land & air communication, military bases & intel cooperation that decimated Al-Qaeda over last 16yrs, but they have given us nothing but invective & mistrust," Khurram Dastgir-Khan said on Twitter.
"They overlook cross-border safe havens of terrorists who murder Pakistanis," he added.