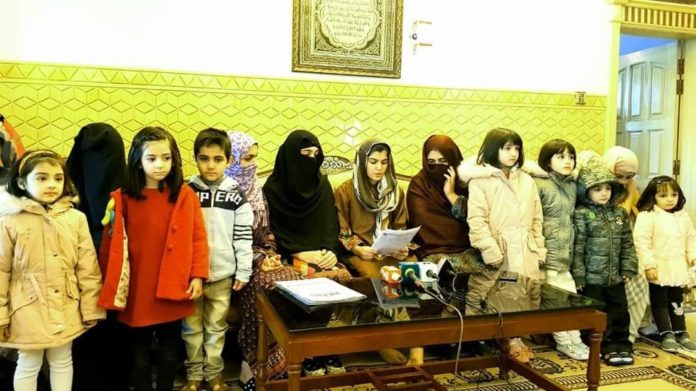 By Ashrafuddin Pirzada
LANDIKOTAL: A tribal girl along with family women and minor children told a press conference here on Wednesday that her grand father was killed in Rawalpindi while her father other eight relatives were trapped in bogus cases.
Husna Shinwari,daughter of former town member Asad Khan Shinwari in a croweded press conference held at her Regilalma house in Peshawar told media that on March 28 her grand father was shot injured inside home and later died on April 4,2019 in Sumira Safdar's house in Rawalpindi.
She said Sumira Safdar was also killed by unknown men few months after her grand father Haji Mobeen Shinwari murder.She said Nazo Shinwari nominated her father Asad Khan,uncles Amjad Khan,Imran Mobeen,Farhan Mobeen and cousins Salman,Asfandyar,Aamir Khan and her metarnal grand father Haji Muqarab Shinwari in her mother's murder case.She said all the arrested her family members were in their offices and private businesses at the time of incident.
Husna said Nazo with the help of Punjab police and few biased television anchors and youtobuers trapped her whole family in fake cases and put all males members of her family behind the bars.
"My three uncles,four cousins and metarnal grand father are in police custody while we do not know how and where is my father Asad Khan for whom they are crying day and night", said expressed.
Flanked by her sisters and other family women and children Husna broke into tears and said that only females left behind at home while only small children have to look after them.
She said Nazo even not spared her 70-years-old grand mother and nominated her in First Investigation Report(FIR) in Sumera Safdar murder cases.
She said Punjab police taking side of their opponents and several times violated laws. She accused that Punjab police during raids took away valuables and pets from their homes in Peshawar.She said Nazo want to snatch her family property from them at any cost and want leave the country for ever.
Husna said all the allegations leveled on her family were fake and boguse which they rejected. She said few months ago her cousin Aamir Shinwari was on the way in his car when gunmen intercepted him in Gulbahar police jurisdiction in Peshawar and opened fire in him.She said her cousin Aamir received bullets injuries in the assassination attempt.
She said her family was the owner of all the properties in Rawalpindi Islamabad and Peshawar and they have valid documents of it. She added that their life was in danger and their opponent were trying to confine the rest of the children and women in four walls of their homes.
She said when Sumira Safdar was killed her daughter Nazo nominated five of her family members while five others from her family were later also inducted in the fake FIR.
Husna appealed from Chief Justice of Pakistan,Army Chief,president of Pakistan and prime minister Imran Khan to provide them justice and take notice of the onesided role of media and Rawalpindi police.
——————————————