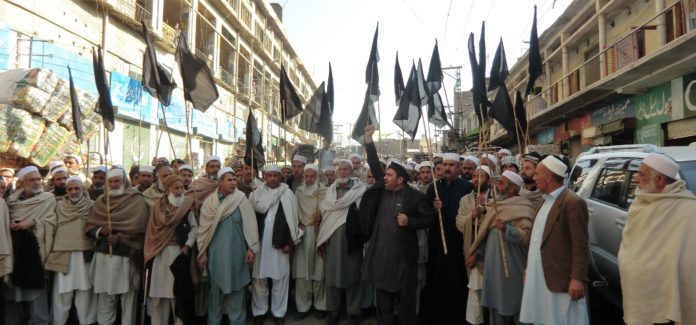 Nasib Shah Shinwari
LANDIKOTAL: The elders and a large number of tribesmen from Shinwari Khuga Khel tribe organized a protest demonstration against the NLC(National Logistic Cell) at Landikotal bazar on Wednesday.
A large number of Khuga Khel tribe elders and locals gathered at Bacha Khan square and criticized the officials of the NLC in Torkhamwho were violating the written agreement with Khuga Khel tribe in Torkham regularly.
Talking on the occasion, Mairaj ud Din Shinwari said that NLC officials in Torkam were always violating the agreement and misused it.
The Khuga Khel elders said the NLC was illegally using the powers of custom department and the political administration which was the clear violation of law and regulations.
The elders said all the locals of Landikotal including Khuga Khel tribel were suffered due to the strict security measurements at Torkham border which badly affected the daily trade of the people.
The elders threaten if the NLC authorities did not stop the misuse of agreement, they would launch a nonstop protest demonstrations against the officials of NLC in Torkham.