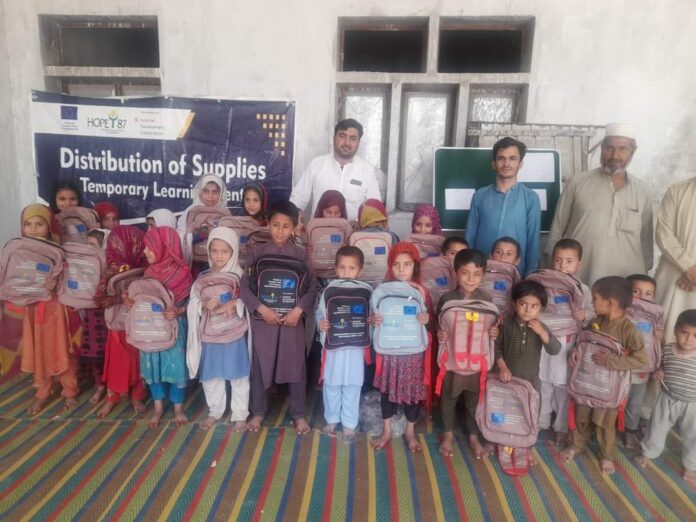 By Ashrafuddin Pirzada
LANDIKOTAL: A non-profitable organization HOPE-87 and Education Foundation merged districts at the request of an Awami National Party(ANP) female councillor and established three community schools in the Ghundi area in Jamrud on Tuesday.
Female councillors from VC-8 in Jamrud tehsil Karishma Kanwal Afridi formally inaugurated the schools. Hope-87 project officers Imran Khan Akhunzada and Amanat Khan were also with the female councillor who also distributed school bags and stationery among the students of community-based three schools in Pump House in Jamrud.
Talking to The News female councillor Karishma Kanwal Afridi said that the schools were established on the demand of the local population. She said it was her prime objective to work for education in her village when she got elected in the current local body's election. She said with the help of her parents and family members she contacted the concerned officials who welcomed her idea and established three schools in her constituency.
Karishma Afridi said they distributed the schoolbags and stationery in Badraga,Husay Khula and Pump House community-based schools purely being run on community support. She said around 60 boys and girls received the stuff in the schools.
Karishma Kanwal Afridi said that on her tiredness efforts the schools were established to benefit the students, especially girls to get basic education for free on their doorsteps. She said classes in the schools were in progress and a good number of students were enrolled in the very first day of the schools opened.
Afridi said the schools would be supervised and supported by Hope-87 and Education Foundation merged districts jointly. She added that all necessary equipment have been installed to smoothly run the educational activities in the schools.
"Mostly boys and girls of the poor family are enrolled in the schools so that they can also remain illiterate and contribute to the society", said Kanwal Afridi. She thanked all the stakeholders for their cooperation and hope that their support would continue in future.
Project officers Imran Khan Akhunzada and Amanat Ali Afridi said they run 45 community schools in the district. They said the aim of the community-based schools was to provide an opportunity for the poor children to get an education. They said that not only Pakistani children but a large number of Afghan girls and boys were also getting an education in the community schools.