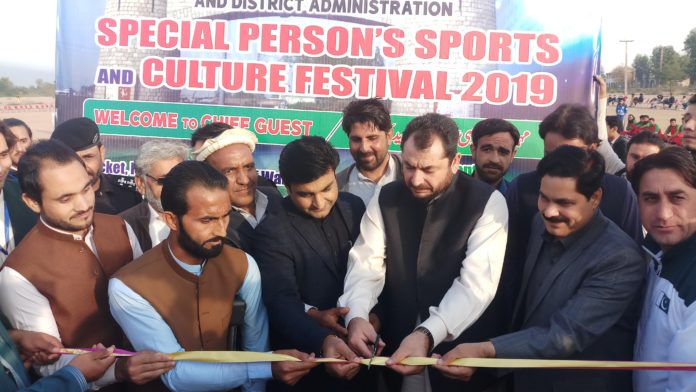 By Ashrafuddin Pirzada
BARA:To mark the special person day,the Khyber Pakhunkhwa Sports and Culture department with the collaboration of district administration arranged sports gala at Besay sports ground in Bara subdivision in district Khyber.
Hundreds of spectators,officials,sports lovers and members of parliament attended the opening ceremony held on Tuesday.
Member of national assembly and PTI leader Muhammad Iqbal Afridi was the chief guest.
MPA Wilson Wazir,MPA Shafiq Khan Afridi,sports director tribal districts Muhammad Nawaz and officials of the sports demartment and Khyber administration also attended the colourful program.
Besides national anthems,fok songs four special persons team also participated in
Tuge of war and chairs game.
Several stalls of culture foods and handicrafts were also set up which attracked visitors.
Speaking on the occasion,director sports ex-Fata Muhammad Nawaz thanked organizers for conducting a colourful event. He said aim of the event was to bring up disabled persons and realize them that they have the same value in the society others had.
MPA Shafiq Afridi said the Image of tribal areas had been was negatively portrayed in the past. He said Imran Khan allocated soecial fundd for poors and special persons in Ehsas Program.
"If we are provided opportunities we can give chaimpions like Shahid Khan Afridi to Pakistan",Shafiq said. He said they want to provide right and uptodate training amd coaching facilities to specisl persons so that they could also players like Shahid Khan Afridi.
He said his government want to empower special persons and enable them to live without depending others.
He said special persons had been ignored in the past and their basic rights were violated. "Tribal people were deprived of their basic rights that pushed them into dark age",Shafiq said.
He said Pakistan Tehreek-e-Insaf led government was committed to provide social justice to everyone at their door steps.
PTI MNA Muhammad Iqbal Afridi said the govt was committed to provide best possible facilities to special persons.
He said he would work to ensure best schooling system to special work.
MNA Iqbal Afridi anmounce 20,000 for the winner tug of war team while rupees 10,000 for runner up.