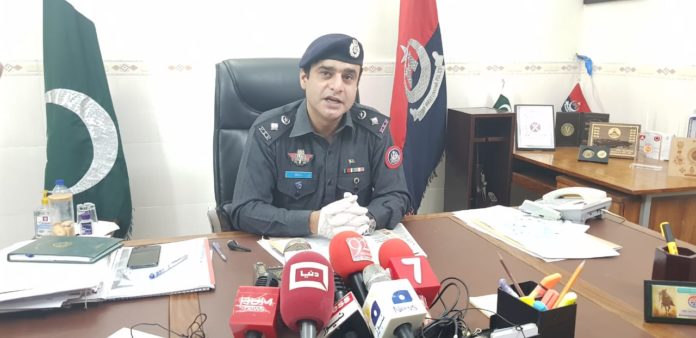 By Ashrafuddin Pirzada
LANDIKOTAL: District Police Officer(DPO) doctor Muhammad Iqbal on Monday said that during the last one year they have recovered millions of rupees worth narcotics items and arrested 624 culprits in district Khyber.
Dr Muhammad Iqbal was speaking to a news conference held at Shahkas police station in Jamrud. He said during the past one year total 422 untoward incidents took place in district Khyber. He said police took timely actions and arrested those involved in criminal activities.
" I have waged war against corruption mafia, narcotics dealers, outlaws and other criminals and conducted raids on the narcotics dens recovered a huge quantity of contrabands", said DPO.
He said they have so far seized 113 kilograms of heroin, 611 kilograms hashesh,81 kilograms opium and six kilograms Ice drug in various raids on the narcotics dens and heroin factories in the district Khyber. He said they have arrested 116 culprits and cases have been registered against them.
Regarding the conversion of Khasadars into regular police force Iqbal said that they have adjusted 3741 Khasadars into Khyber Pakhtunkhwa police force in the last one year. He said during the current coronavirus pandemic 373 police personnel have been deployed at various quarantine centres in the district.
The police officer said that Khyber traffic police have also did a tremendous job and recovered Rs2.9 million as traffic violation fines in one year. He said a law was under consideration to regularize those performed duty as proxy Khasadar in police force.
"Khyber police force is committed to fight against all social evils, maintain peace and help innocents at any cost", said DPO Khyber. He added that they have recovered millions of rupees worth contrabands in the past four months which was appreciable.
Replying to a question, Muhammad Iqbal said on the directives of IGP Sanaullah Abbasi all Khyber police force personnel were made eligible for police welfare funds.
He said Khyber police force onward would get equal benefits in Shuhada packages when any police personnel die during duty.