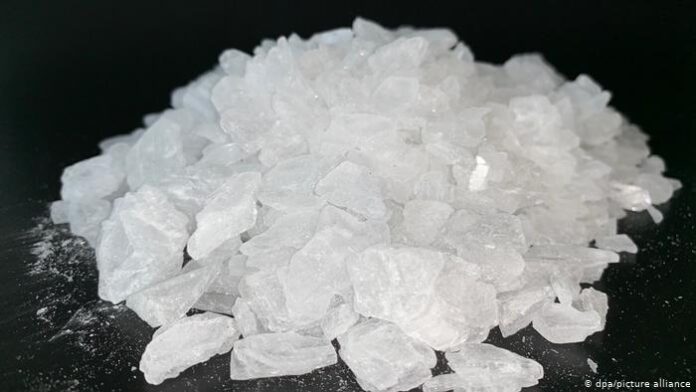 Ashrafuddin Pirzada
LANDIKOTAL: On the strict directives of Chief Minister Khyber Pakhtunkhwa Mehmood Khan, police arrested two Ice dealers who had allegedly sold Ice drugs to a minor child in Landikotal on Thursday, sources said.
Landikotal police said a video was viral on social media in which a child was sent by his father to purchase Ice drugs for him.
He said Khyber Pakhtunkhwa chief minister Mehmood Khan took action on the viral video and directed Khyber police to arrest the Ice dealers.
Police said they arrested two Ice drug dealers identified as Ikhtyar Shinwari and Muhammad Arif Shinwari and recovered 200 grams Ice from their possession.
However, police have yet not arrested the drug-addicted father identified as Rozee Khan, a resident of Pirokhel who gave Rs250 to his son and was sent four kilometers away from his home to purchase Ice for him.
Meanwhile, residents of Landikotal and Nojawanan-e-Qabail jointly staged a protest demonstration against the ban on sacrificial animals from Afghanistan and prolonged load-shedding in Landikotal.
They marched from Bacha Khan Chowk and gathered outside the Khyber press club in Landikotal. The protesters chanted slogans to the left a ban on the sacrificial animal's import from Afghanistan.