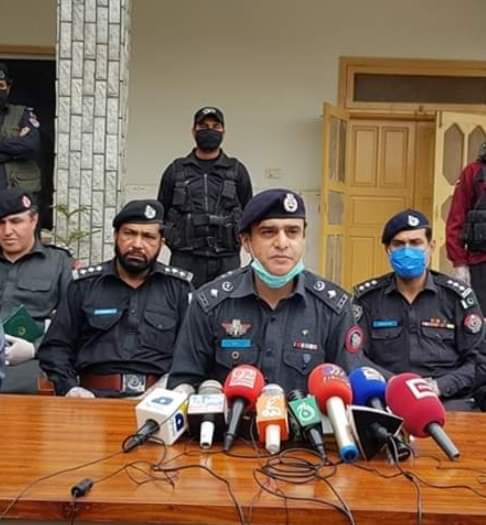 By Ashrafuddin Pirzada
KHYBER: District Police Officer(DPO) doctor Muhammad Iqbal on Sunday said that working on the zero tolerance policy they have arrested several narcotics smugglers,killers and recovered a bulk of different contrbands from their possessions in district Khyber.
Dr Muhammad Iqbal was speaking to The News during his surprise visits to different police stations and police check posts in Landikotal said that the Khyber police were committed to fight against all social evils.
He said all police stations and police checkposts were strictly directed to serve the people and keep a vigilant eye over the criminals and narcotics smugglers.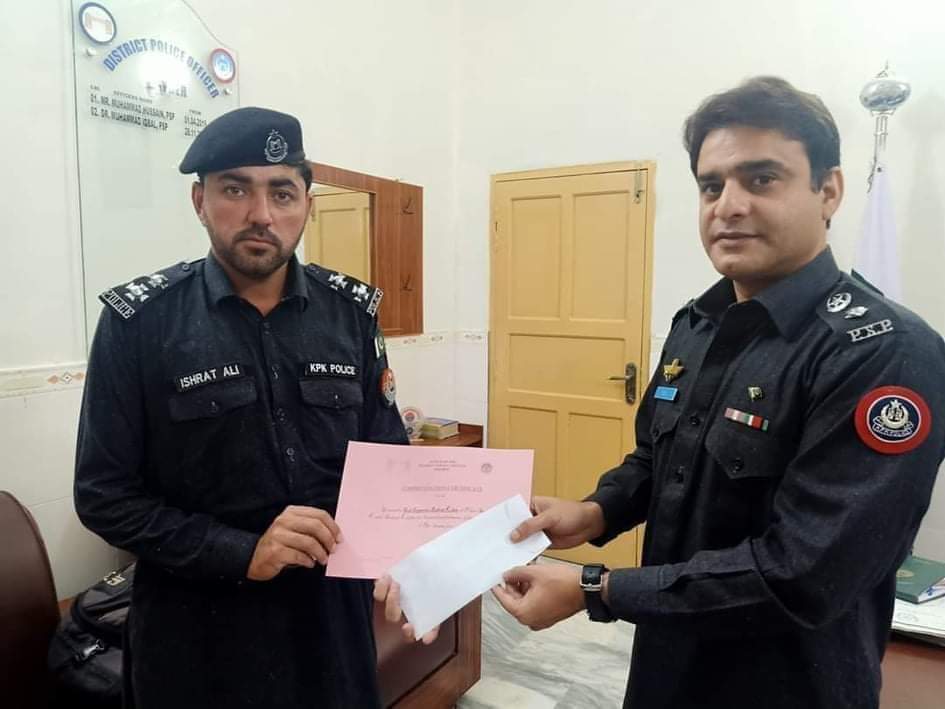 Meanwhile,DPO awarded an honorary certificate to sub-inspector Ishrat Shinwari on his outstanding performance during the past few months.
Iqbal checked complaints books at police stations and ordered the officials to ensure best possible service delivery.
He said Khyber police in the past few months have taken several timely actions against outlaws,drug dealers and those who want to sabotage peace in district Khyber.
He said with the other law enforcing agencies coordination Khyber police have waged war against those wanted in killings,corruption mafia, narcotics dealers, outlaws and other criminals.
"As I took charge in district Khyber I faced many challenges including a strong network of narcotics smugglers and corruption mafia who were active and incolved in different illegal and anti social activities", said DPO.
He said they took quick actions and conducted raids on the narcotics dens and recovered a huge quantity of contrabands", said DPO.
He said they have so far seized 116 kilograms of heroin, 357 kilograms hashesh,66 kilograms opium and 2332 kilograms Ice drug in various raids on the narcotics dens and heroin factories in the district Khyber.
The district police chief said they have arrested a number of narcotics dealers and cases have been registered against them.
Iqbal said they have also arrested three persons who had murdered three children in Landikotal,Jamrud and Tirah valley in different incidents. He said media should pinpoint their weaknesses and strong points so that police department could root out all kinds of social evil from the society.
To a question he said several heroin and local made alcohol factories were also destroyed in the past few months and its owners were behind the bars.
Dr Iqbal said on the directives of high ups he suspended 70 police department employees including three deputy superintendents of police(DSP) on corruption charges. Adding that he dismissed three other police officers from their services who had secret involvement with narcotics smugglers. He said his team was struggling to streamline the police force in the newly merged district and were trying their level best to deliver best services.
Dr Iqbal said drugs dealing in Khyber district were being considered as a normal business and a good number of people were involved in it. He said Ice drug and heroin was penetrating like a cancer in the society that claimed a number of lives every month. He said they should take serious actions to save youth and next generation from going to wrong direction.
The Khyber police chief urged citizens to identify all those who were practicing any kind of illegal and immoral activities so that police could put hands on them and help create a healthy envoirnment.