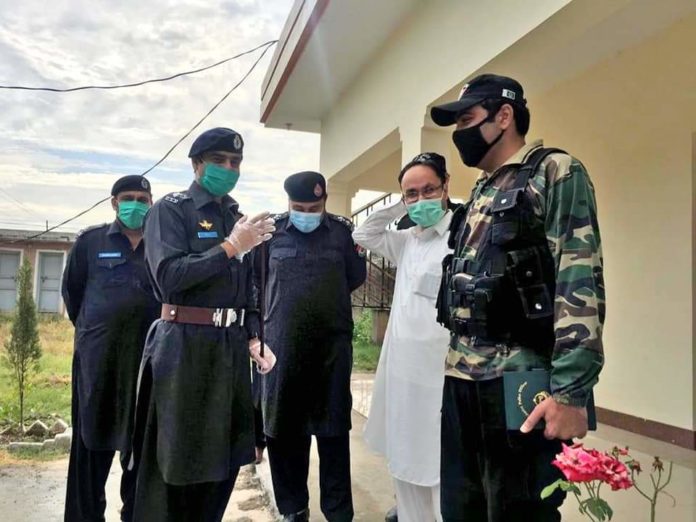 By Ashrafuddin Pirzada
LANDIKOTAL: District Police Officer(DPO) Dr Muhammad Iqbal visited Jamrud civil hospital where he was briefed about the security and health protocols taken during coronavirus pandemic, sources saud on Thursday.
The sources said that DPO met with Jamrud civil hospital Medical Suprintendent Dr Alamgir who beriefed him about the over all situation and safety measures placed at isolation wards.
Dr Muhammad Iqbal also inspected control-room at the hospital and other checking points set up for coronavirus diagnosing.
The police officer issued strict directives to the police personnel deployed at Isolation wards in the hospital. He praised police personnel for performing their dutues as frontliners.
DPO assured the policemen that he would soon provide them corona kits so that they could be protected from the coronavirus.
Meanwhile, a meeting between DPO and officials was also held at Jamrud hospital in which they chalked out a joint efforts to deal the coronavirus patients. They converted the OPDs building into qurantine centre for coronavirus patients.
Dr Muhammad Iqbal said the aim of his visit to keep check on the police and health workers and ensure best possible services delivery to the covid-19 patients.
Dr Alamgir and DPO Iqbal in a joint publice message urged residents to avoid visiting the Jamrud hospital without emergency. They said whenever any citizens in need call them their health workers and police would be available for their help.
DPO told the Jamrud hospital incharge health officer dr Jahangir to conduct coronavirus tests of the 400 police personnel performing duties in various quarantine centres in district Khyber.