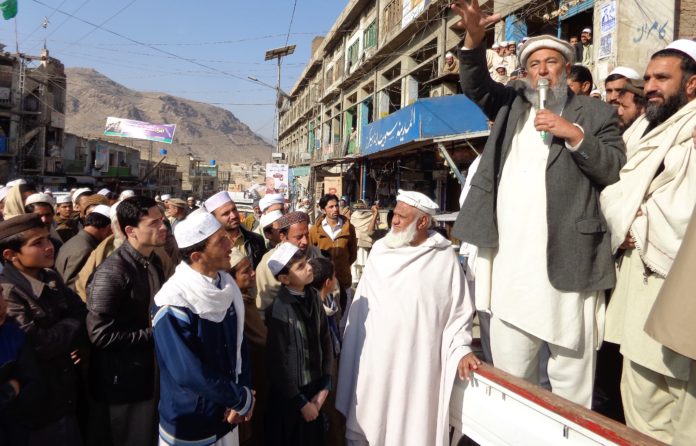 Nasib Shah Shinwari
LANDIKOTAL: A large number of political party leaders, civil society members and local tribesmen on Thursday hold a protest demonstration at Bacha Khan Square of Landikotal bazar against the brutal behavior of Khyber Rifle force personnel with Khuga Khel tribesmen.
Speaking to the gathering of hundreds of protestors , the Jamat-i-Islami(JI)Naib Ameer, Zar Noor Afridi; President Awami National Party (ANP) Khyber Agency, Shah Hussain Shinwari; senior JI leader Muqtadir Shah Afridi; Pakistan Tehreek-i-Insaaf leader Abdur Raziq Shinwari criticized and condemned the inhuman behavior of Khyber Rifles'(FC) officials with the innocent locals of Khuga Khel tribe.
Shah Hussain Shinwari, president of ANP Khyber Agency said the people of Landikotal and all FATA were loyal and peaceful but the wrong policies of authorities would make them terrorists and disloyal to the country.
He said behaving with the locals of Landikotal like terrorists and criminals would make all the people against the security forces and country which would also earn bad name for country in world.
JI leaders Zar Noor Afridi, Muqtadir Shah Afridi and PTI leader Abdur Raziq Shinwari addressing the gathering said arresting innocent and unarmed civilians and crackdown against the non-custom paid vehicles were injustice with the locals of Landikotal and Khuga Khel tribe.
They said the local people run their non-custom paid vehicles as taxi cars and earn livelihood for their families adding that these cars were the only source of income for them.
The elders demanded the FC officials at army garrison of Landikotal to handover the confiscated cars to their owners and do not snatch bread from their children.
The leaders said that FC illegal actions were only spreading out hate among the tribesmen about the government institutions and armed forces. The leaders accused and slammed that some FC officials in Landikotal spoil the good image of security force among the citizens of Pakistan and in whole world.
The leaders said and criticized the poor performance of the political administrative officials who always showed their weakness during any critical situation like what was happening from the past few days in Landikotal.
Political party leaders and local elders appealed to the chief of Army Staff, Qamar Javed Bajwa and Inspector General of Frontier Corps to take immediate notice of the situation in Landikotal and if they did not take action, the locals of Landikotal would be compelled to launch countrywide protest demonstrations against the inhuman and discriminative behavior of FC officials with the locals of Landikotal.