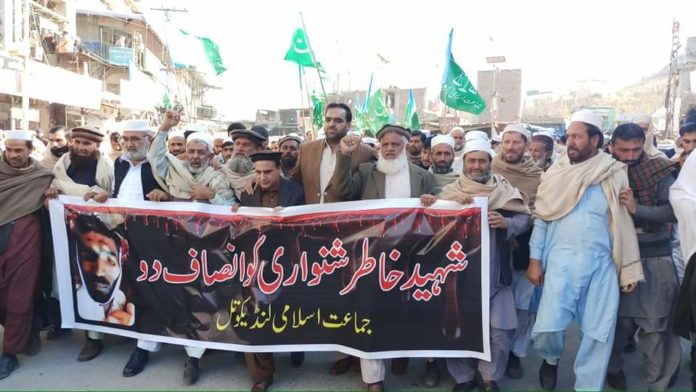 By Ashrafuddin Pirzada
LANDIKOTAL: Jamat-e-Islami tribal district on Tuesday organized a protest rally against the death of a local resident who lost his life in the Frontier Corps custoday and demanded judicial commission to investigate the incident.
A large number of residents,political parties supporters and civil society members took part in the protest rally held in Landikotal bazaar. They were holding party and black flags and marched in the bazaar.
The protest rally participants chanted slogans against the alleged torture and brutal killing of one Khatri Khan Shinwari who died in the forces custoday the other day.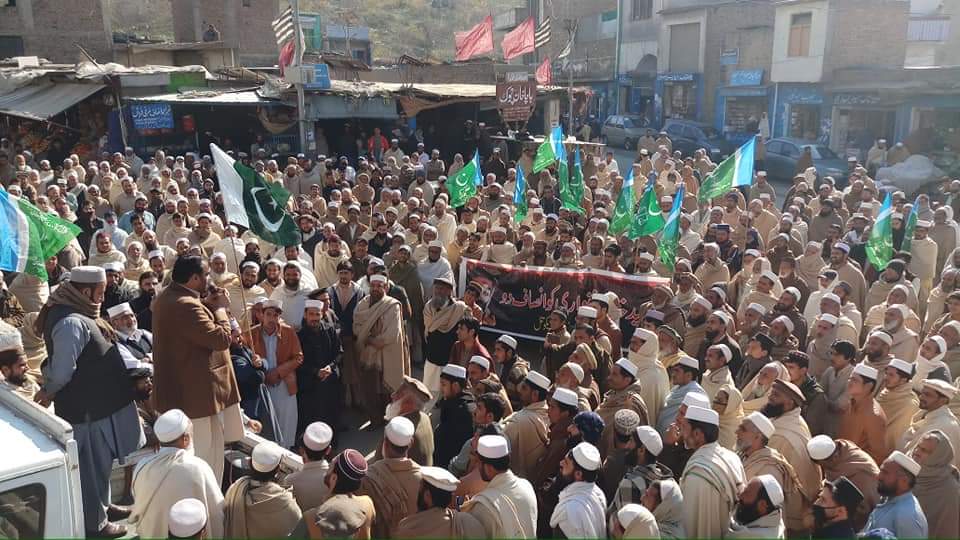 Speaking on the occasion, Jamat-e-Islami Khyber Pakhtunkhwa Youth wing president Saddiqur Rehman Paracha,Awami National party Landikotal president Shah Hussain Shinwari, JI Khyber district general secretary Murad Hussain Afridi,Muhammad Hassan Shinwari,Abdur Rauf Shinwari,Zahir Shah,Muqtadar Shah Afridi,Qari Said Hakim Shinwari, Tanzeem ahle Sunnat Waljumat leader Shakir Khan Afridi,Qaumi Watan party leader Zakir Afridi,Aftab Khan and Shah Rehman Shinwari demanded the judicial commmission to probe the death of Khatir Khan.
The speakers said that Khatri Khan died of the severe torture and demand justuce for his family.
JI leaders said like the rest of the citizens Khatir and his family were also loyal and devoted citizens of Pakistan. They lamented the terrorist lebal leveled on the the residents and other tribals.They said that it was injustice with the families who burried their near and dear ones in the past few years militancy.
They said that raids on the homes of respectable people in Landikotal was violation of the law and they consider it their insult.
The protestesters said that tribal people always served the country and defended borders without taking salaries.
They accused that torture and killing the residents in custoday was the motive against Pashtoon pupolation.
The Jamat-e-Islami leaders said they will rais voice against all kinds of injustuce against any citizens like Khatir who lost his life while he was not terrorist.
They asked that the the security forces to respect the law and respect the culture and tradition which was nobal to them.
They said the government should heal the tribals wounds they received in the past militancy rather to hurt them more.
The leaders demanded that those involved in the brutality of the incident should be brought to justice and give Shaheed package for the ill-fated Khatir Khan family.