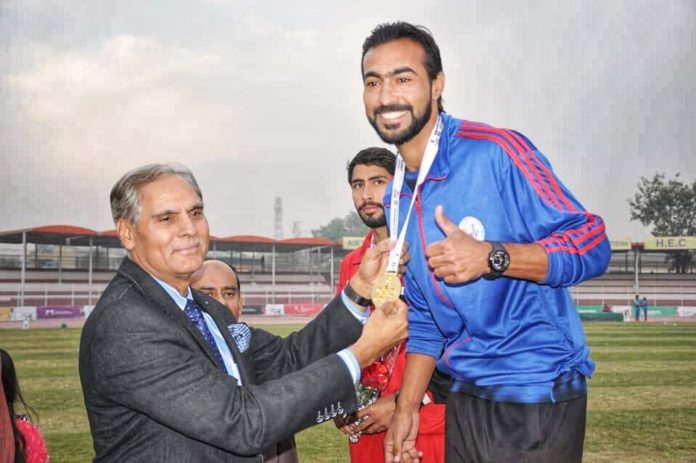 Ashrafuddin Pirzada
PESHAWAR: Pakistan's fastest athelete Samiullah who sells cooked rice in the Jamrud bazaar in Khyber tribal district to make a living won a gold medal in the 33rd National Games in Pakistan says he will break the world record in South Asian games being held in Nepal next month.
Samiullah,25,resident of Jamrud subdivision in erstwhile Fata clocked the 100 meters fast race in 10. 64 seconds.While the world record in the same category is 9.58 seconds.
Samiullah,the father of three sons, sales cooked rice in Jamrud tehsil bazaar in Khyber Tribal district for the last ten years.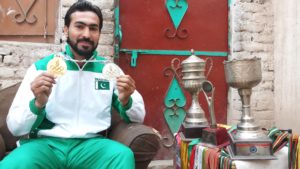 Speaking to Fatavoice Samilullah says he and his family is so happy that he clinched gold medal in 100 meters fast run.He says he paved the 100 meters fast run in 10 seconds and 64 micro seconds which has difference of less than a minute which is world record.
Samu says it was a unforgetable moment not only for him but also his parents and other family members celebrated his win at the stadium when he was honoured with gold medal.
Samiullah lives with his parents in a small mud-made rented house near Jamrud bazaar. He said every day he cook and sells Polao rice in Jamrud bazaar and then he leaves for Islamia college ground where get traning with his trainer.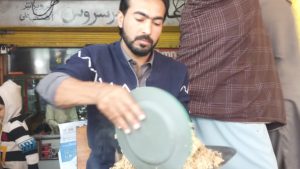 "This is my first national games gold but i have won around hundred others gold,seliver and browns medals in different regional and departmental games held in Pakistan", says Samiullah.
He says he is getting tough training for the coming month Soyth Asian fames scgedulled in Nepal where he would participate and hopefully bring gold medal for Pakistan.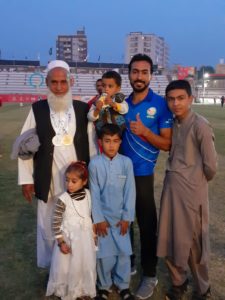 Father of three boys Samullah earn livelihood for his poor family said people coming to his rice stall to meet him and take selfies with him. He says every day he hardly earn rupees 1000 to 1500 working for almost ten hours a day.
"I leave my home at 6am early morning and go to Jamrud bazaar where i open my rice stall and work for around 4pm",Sami said.
Samiullah says he remained champion of under 14,15 and under 19 several times. He says he joins WAPDA recently and won inter board and inter university medals.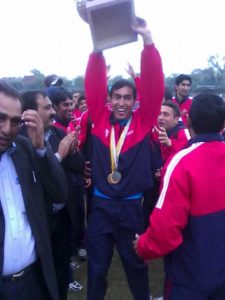 The national athelete says about his education that due to exreme poverty he could only get schooling at secondary level. "Iget omly Rs22,000 in which i only adjust my sport kits and trainig fee", Sami expressed.
" I am optimistic that i will break the world record in the coming Nepal games and will bring international titile for Pakistan", Samilullah maintained.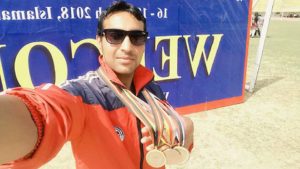 Dilawar Khan,Father of Samilullah, says they basically belongs to Bannu but fifty years ago poverty compeled him to shift his siblings to Jamrud where he started selling cooked rice in the bazaar. He says is fond of be an athelete since he was child.
Dilawar says he now feel proud of the father of national chaimpion.
Muhammd Shah,training of Samilullah says that he works hard with Samiullah for several hours every day. He says Samilullah is a dedicated sports man who sees him at the top in the internarional ranking.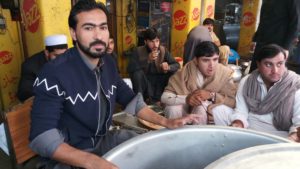 Shah urges sponsers and the government to help Samiullah financially so that he could use his full time in the sports rather to sell rice in bazaar.
Samiullah trainer says he can achieve the wolrd titile which is now with the Jamecan athelete who compeleted 100 meter fast run in only 9 seconds and 58 micro seconds.