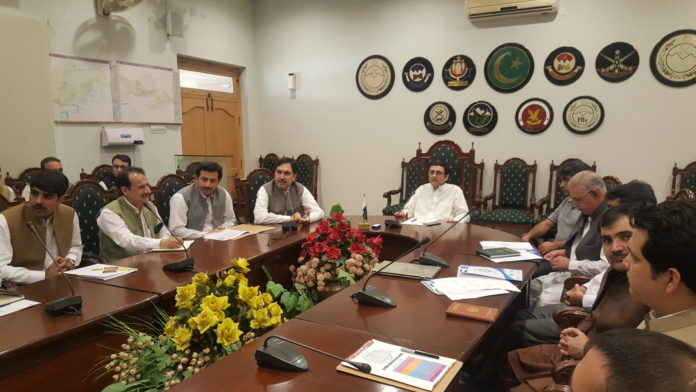 Shamsul-Amin Pirzada
LANDIKOTAL: Additional Chief Secretary (ACS) Khyber Pakhtunkhwa(KP) tribal districts, Sikandar Qayum Khan lauded efforts of all concerned departments and officials over the exemplary progress of polio program and maintaining zero case status in the region for more than two years through essential immunization.
To review the progress of polio program and preparation for upcoming measles campaign a grand meeting was held at FATA Secretariat the other day.
During the ACS KP Sikandar Qayum Khan said that they had achieved a lot but their focus should be on adding value to polio program by addressing challenges emerging every now and then so that they could achieve the ultimate goal of polio eradication.
He expressed satisfaction over preparation for the measles campaign starting from Oct 15, 2018, in Tribal Districts.
Stressing masses, the ACS said the communities in the tribal districts should cooperate with health staff in anti-polio campaigns and in the upcoming anti-measles campaign, as it was the only way to secure healthy future for their kids. They could beat polio, measles and all other vaccine-preventable diseases, Khan added
"Close coordination between Emergency Operations Center (EOC) tribal districts of Khyber Pakhtunkhwa team, essential immunization teams, DHOs, and Deputy Commissioners would be significant in assuring vaccination of target children", Sikander said.
He said that polio platform must be utilized for measles campaign implementation as well.
Sikander Khan assured full support in addressing challenges and tackling hurdles in both polio and essential immunization program.
He advised Deputy Commissioners and Health Staff to ensure presence for addressing issues discussed at earlier meetings held at District Polio Control Rooms during campaigns.
Coordinator EOC Mahmood Aslam Wazir briefed forum on polio program progress and challenges faced during the past few months. He emphasized that EOC KP TD priority was to vaccinate every child and reach children missed during polio campaigns.
Qayum Khan suggested that Deputy Commissioners and District Health Officers can help vaccinate all the children with improved teams' performance.
The official also stressed to stop the circulation of polio virus detected through environmental sampling in Bajaur Agency via vaccinating every child including population on the move, in upcoming anti polio campaigns.
Program Manager EPI Tribal Districts Dr. Iftikhar Ali updated the high officials regarding preparations for measles campaign in tribal districts.
He said that all the pre-campaign activities had been ensured and daily meetings were conducted to monitor progress.
ACS advised to strengthen the accountability mechanism, identify poor performing or absent staff, and bring it to the notice of ACS Office for strict action. He stressed that lapses at any level would be dealt with seriously.
Sikandar Qayum Khan lauded efforts of EOC, health department, UN partners, District Health Officers and Deputy Commissioners over progress on the anti-polio program and for the preparation of upcoming anti-measles campaign in tribal districts
Deputy Commissioners, District Health Officers, Program Manager EPI Dr. Iftikhar Ali, Technical Focal Person KPTD Dr. Nadeem Jan, Team Leader UNICEF-KPTD Dr. Tufail Ahmad, National Consultant Measles-WHO Islamabad Dr. Poonum Durdana, Team Lead WHO-KPTD Dr. Hamid Momand and other relevant officials also attended the meeting.