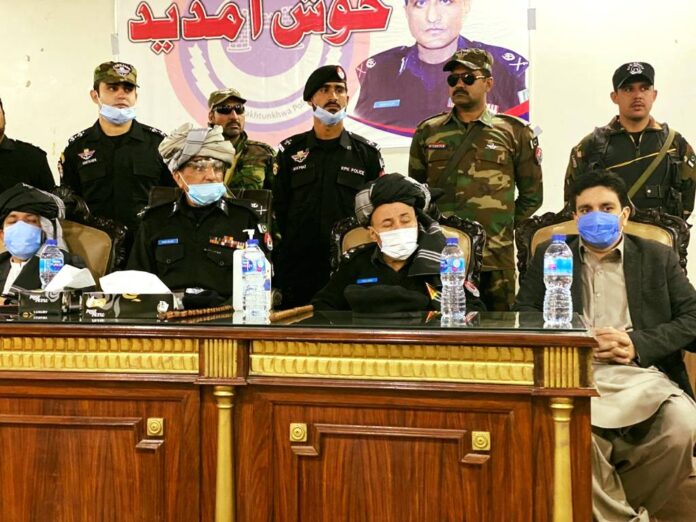 by Correspondent
MIRANSHAH: The Inspector-General of Police Khyber Pakhtunkhwa Dr. Sanaullah Abbasi visited Miranshah, inaugurated the newly constructed police lines in District North Waziristan.
Khyber Pakhtunkhwa police chief Sanaullah Abbasi visited North Waziristan tribal district, where the IGP was warmly welcomed by RPO Bannu, Commissioner Bannu, DPO North Waziristan and DC North Waziristan.
A smart contingent of local police presented Guard of honour.
IGP Khyber Pakhtunkhwa Dr. Sanaullah Abbasi inaugurated 9 police stations included those of Miranshah, Mir Ali, Razmak, Ghulam Khan, Datta Khel, Wasli, Guryum, Spinwam and PS Shewa which became operational in former Fata which was merged with the province in July 2018.
During a briefing on the occasion, the IGP was told that police officers along with necessary staff have been posted in all tehsils for easy dispensation of justice to the local people.
On the occasion, the local elders assured their support and cooperation with the police in the region.
Later, the IGP told the media that investigation wings have been established in all merged districts and SP Investigations have been posted there, which would improve the investigation of cases.
The IGP also visited training centre Miranshah where he inspected the ongoing training of the 900 recruits and witnessed demonstrations exhibited on this occasion. After completion of the training in December, they will be posted in different places of the district to serve the community.