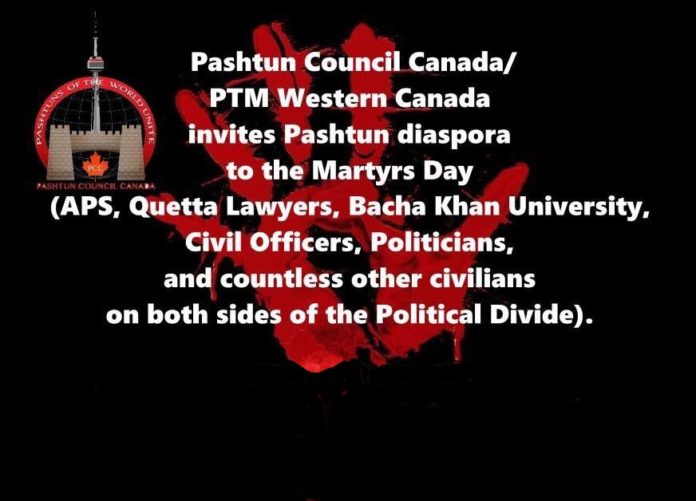 Fata Voice News Voice
TORONTO: Pashtun Council Canada paid tribute to the martyred children of APS, Quetta martyred lawyers, bacha khan university martyred and other martyred civilian for their valor and patriotism.
The memorial event took place at Toronto city of Canada.
Addressing this ceremony of Pashtun solidarity, Founder of Pashtun Council Canada (PCC) Professor Seraj khan said, that the Pashtun by presenting the ultimate sacrifice of their lives drew up a red line and made the terrorists the subject of eternal condemnation.
He paid rich tributes to the martyred children of Army Public School, Quetta martyred lawyers, bacha khan university martyred and other martyred civilian who lost their lives in the war against terrorism.
he said that the sacred blood of Pashtun martyrs will not go in vain.
Seraj said that terrorists do not have any space either in Pashtun areas of Pakistan.
he suggested that rulers should dedicate all their energies and resources to uproot terrorism from the Pashtun land.
Speaking on the occasion, Executive member of PCC, senior journalist Aimal Khattak said that terrorists injured our souls on the ill-fated of since 70 years but the whole Pashtun nation rose together like a rock against forces of terrorism and obscurantism and thus demonstrated its true character.
He said that the masses show historical unity to launch a war on the enemies of Pashtun and humanity.
Member of "Pakhtunkhwa Milli Awami party Canada" Mr. Umer Zada said that terrorism and extremism have a very deep connection with bad governance. He said that people belonging to all walks of life and all elements of national power will have to continue to be on the same page to eliminate injustice and terrorism from our land.
Didar Yousufzay said that Pashtun Council Canada stands in solidarity with their Pashtun brothers and sisters in their fight against terrorism and extremism.