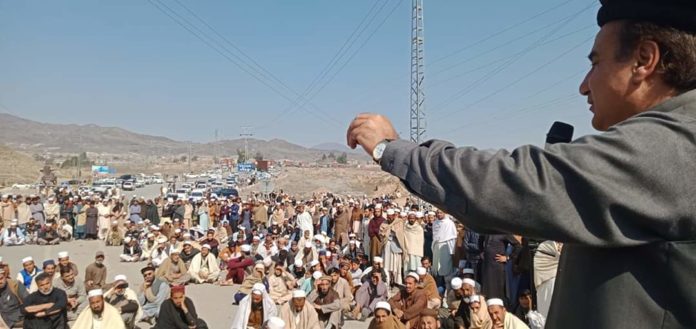 By Ashrafuddin Pirzada
LANDIKOTAL: To record their protest against the alleged murder of a local resident, political parties leaders and family members of slain Adnan Shinwari continued their set-in at Charwazgay Chowk in Landikotal on the 5th day.
Several political leaders and parliamentarians including MPA Shafiq Sher Afridi and MPA Mir Kalam have so far visited the protesters and expressed over the alleged murder by the Counter Terrorism Department(CTD) few days ago.
Speaking on the occasion,Mir Kalam Wazir,MPA SHafiq Sher,ANP Khyber district president Shah Hussain Shinwari, JUI(F)trinal districts deputy chief Mifti Muhammad Ejaz Shinwari and others said that they were demanding their due rights in the light of constitution of Pakistan.
They said that if the slain Adnan Shinwari was involved in any case he should have to be produced in the court. The speakers said that they want protect for their children as it was the duty of state to protect life of its citizens.
Earlier, Pashtoon Tahafuz Movement(PTM) leader and MNA Ali Wazir was stopped at Karkhano check post and did mot allow to joint the protesters' set-in in Landikotal.
A large numbers of residents and political parties leaders visited the set-in camp at Charwazgay Chowk and participated in thr Qul of the Adnan Shinwari.
The road was remained closed from 9am to 5pm for all kind of traffic. Hundeds of loaded and empty trucks were parked on the both sides of the Pak-Afghan highway from Torkham to Karkhano markets.
The protesters said that their protest would be continued till their demamds not fulfilled.