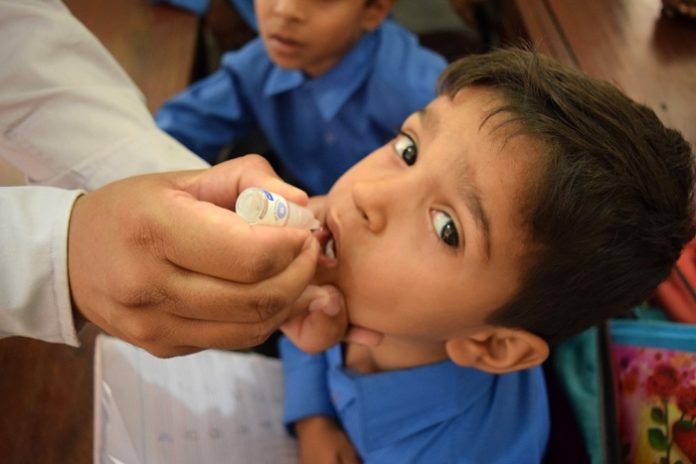 Ashrafuddin Pirzada
LANDIKOTAL: After the polio cases confirmed in Bajaur tribal districts this year the health officials along with local administration have issued the list of affected children and decided to launch anti-first campaign in the district.
The National Emergency Operations Center (NEOC) in Islamabad on Saturday notified two polio cases of 2018 from Bajaur District of Tribal Districts.
National Institute of Health has isolated wild polio virus from stool sample of 36 months boy Abdurehman and 78 months girl Nabila,residents of village Jaba Manzai in Tehsil Salarzai of district Bajaur.
A press release here issued said that a child got paralyzed because of polio virus on December 29, 2018, and December 31, 2018, whereas, stool sample were collected to check the presence of polio virus on Jan 8, 2019, and Jan 7, 2019, from Abdurehman and Nabila respectively.
It further said that laboratory isolated wild polio virus from stools was confirmed in both cases.
The polio official in the statement claimed to polio drops to both the children in seven doses of oral polio vaccine and zero doses of essential/routine vaccination.
It added that both the children shows slight weakness in one of the limbs or slight paralysis.
Coordinator EOC Khyber Pakhtunkhwa Capt(R)Kamran Ahmed Afridi said when contacted said he said that every confirmed polio case from Bajaur district was proof in itself that gap exists and there is need for improving the quality of campaign. He said task teams and syndicates have already been notified who should identify gaps and propose the strategy to recover.
He advised the provincial team to ensure access to and vaccination of each and every child, especially in Bajaur during upcoming anti-polio campaign. He said any delinquency on the part of any officer would be dealt strictly.
On the other hand, a three-day catch up of missing children anti-polio campain in tribal districts would also be launched from Monday, January 21st, 2019. Deputy Commissioners, District Health Officers and Security Forces would jointly supervise the campaign.
Total of 4120 teams comprising 3803 mobile teams, 227 fixed and 90 transit teams mobile teams have assigned with focus on reaching and vaccinating total of 884771 children below the age of 5 years.
A polio official said all the necessary arrangements should be ensured for high quality and effective anti-polio campaign that could set a benchmark for rest of the 2019 campaigns. He said it was important that they strive to boost immunity of every child against polio virus and simultaneously aim to prevent virus from movement.
With this another couple of polio cases emerged in tribal districts, the health official said, the count of total polio cases in tribal districts during 2018 increased to 6 while 5 polio cases only emerged in Bajaur and one case in Khyber recorded.