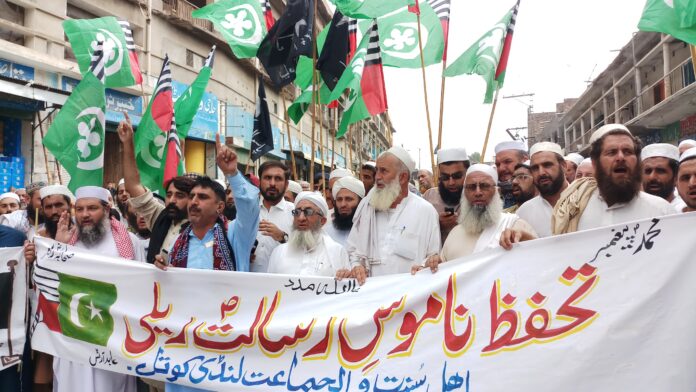 Ashrafuddin Pirzada
LANDIKOTAL: Pasban Pakistan and Ahlesunnat jointly arranged rally in Landikotal bazaar and demanded forthwith release of Khalid who had killed a man in court in Peshawar.
A large number of Pasban and ahlesunnat leaders,workers and local residents participated in the rally held in Landikotal bazaar.They were holding banmers and placards inscribed with slogans of Namos-e-rasalat and the last messenger of Allah.
The rally was started from Bacha Khan Chowk and gathered outside Landikotal press club where speakers said that they would not tolerat anyone who not accept the prophet Muhammad peace be upon him as the last messenger and profit of Allah.
Speaking on the occasion, Pasban Landikotal leader Qari Wadanullah and Pir Syed Muhammad Benuri said that they would not hasitate to sacrifice the every thing but will not allow anyone claiming the last messenger Naghozobillah.They chanted slogans in favour of Khalid who allegedly killed an Ahmadi belief person in Peshawar court inside courtroom and arrested on the spot. The participants demanded of the government to release Khalid.