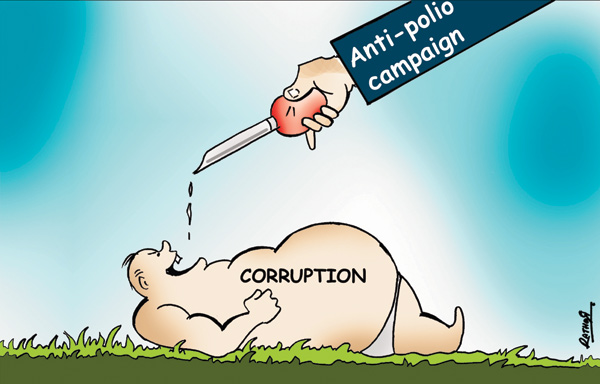 PESHAWAR: The Khyber-Pakhtunkhwa chapter of National Accountability Bureau has opened an inquiry into the charges of fraud and embezzlement of Rs 200 million from the funds allocated to polio vaccination projects in the Federally Administered Tribal Areas (FATA).
KP NAB Director General Farooq Naseer Awan has decided to launch an investigation into the matter of FATA's Health Directorate official's "corruption and corrupt practices," NAB K-P Director General Brig (Retd) Farooq Naser Awan, while chairing the bureau's meeting, gave the nod to open the probe,a press release issued by NAB said.
The meeting also approved an investigation on police officers from Bannu.
"It is alleged that the subjects have embezzled funds allocated for the Travelling Allowance and Daily Allowance (TA/DA) of police personnel," said the statement.
FATA, a region of Pakistan that is most-affected from polio, recently experienced a decline in cases of the crippling disease.