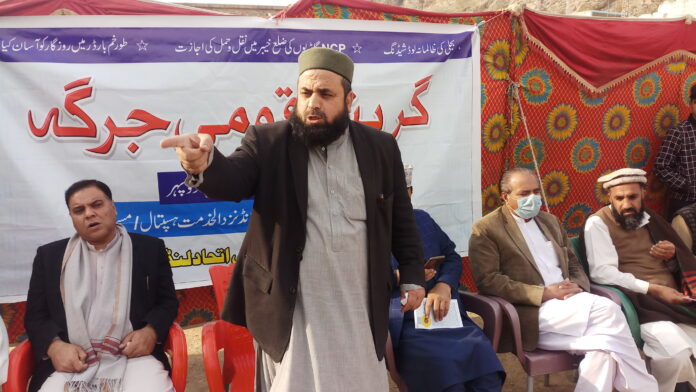 By Ashrafudddin Pirzada
KHYBER: Political party leaders and social activists demanded of the government to take serious notice of the target killing incidents as several persons were shot dead in the past few weeks in Jamrud and Bara tehsils in the tribal district of Khyber.
Speaking to a grand tribals Quami Jirga held here in Landikotal Jamiat Ulema Islam(Fazl) erstwhile Fata deputy chief and Khyber Seyasi Etihad(political alliance) president Mufti Muhammad Ejaz, Jamat-e-Islami Khyber district Ameer Murad Hussain Afridi, ANP leader Sayda Jan Afridi, Qaumi Watan Party president Ali Rahman Shalmani, journalist Qazi Fazlullah, journalist Khalil Afridi, Landikotal Falahi Tanzeem chief Akhtar Ali Shinwari,
Paramedical association president Mujeeeb Afridi and others said that the government should resolve their genuine problems.
The speakers said despite the tribal district's merger with Khyber Pakhtunkhwa still they were not given living facilities. They said the parliamentarians also failed to raise voices for their social, moral, and constitutional rights on the parliament floor so that they could get their basic needs. They said customs' authority and powers given to Frontier Corps(FC) should be taken back as tribal areas have merged in Khyber Pakhtunkhwa and all the government departments including customs were functional in all districts.
JI leader Murad Hussain and JUI-F senior leader Mufti Muhammad Ejaz condemned the aloofness of the government over the growing target killings incidents in district Khyber. They said it was the failure of the government to arrest the killers and punish them.
Murad Hussain said several people have so far got killed in target-killing incidents in tehsil Bara and Jamrud in the past few weeks. He said it was a cowardly act of those who kill residents. He said likewise in districts Malakand and Gilgit Baltistan the government should allow None Custom Paid(NCP)vehicles to run within the district.
Mufti Ezaj said the government officials were showing their alleged ignorance over the increasing numbers of target killings in tribal districts. He said difficulties for residents were noticed which was increasing day by day but the so-called mergers failed to address their core issues. He said private jobs and businesses were finished at the Torkham border while the National Logistic Cell and its partners occupied legal and illegal income being generated at the Torkham border.
"The response must be ashamed that several times elected personalities and government officials pledged to construct the long-awaited district press club in Landikotal. He said the tall claims mere remain hollow slogans of the parliamentarians so far", Mufti Ejaz maintained.
ANP leader said when they speak for their rights and demanded peace they were threatened. He said still he was receiving threatening phone calls from unknown people because he had been outspoken for their rights.
He threatened to give a call for a sit-in at the Torkham border if their grievances were not addressed in one week.
MPA Shafiq Sher Afridi also spoke on the occasion.