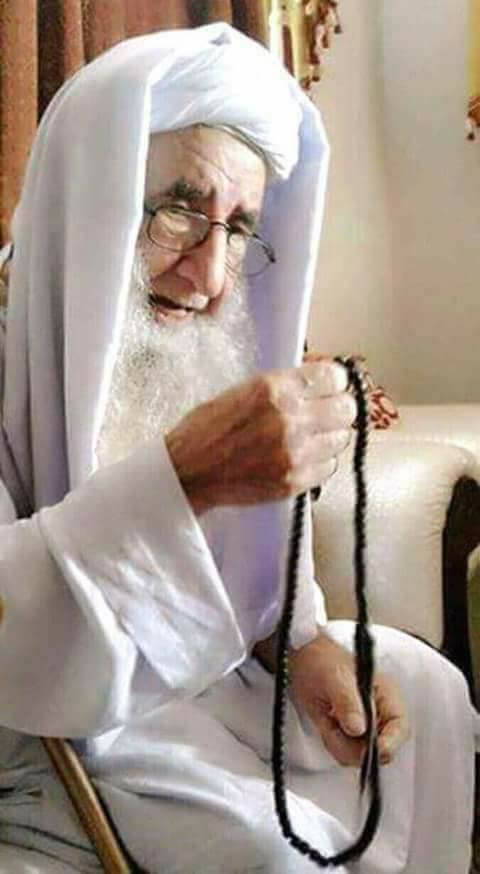 Ashrafuddin Pirzada
Abdul Aziz alias Sheik Gul Sahib was born in a renowned spiritual family of Landikotal in the home of Hazrat Haji Gul Sahib in Pirokhel village in 1932 in District Khyber.
Sheikh Gul Sahib provided a well-organized Islamic society not only for his family but for those who used to come and meet him in the Prokhel village of Mulayan.
He had more strong spiritual attachments with the land of the holy prophet Muhammad Peace be upon him and performed 52 times pilgrimage (Hajj) and dozens of times went for Umra to Saudi Arab.
In the early 90s, he laid the foundation stone of Tanzeem-e-Ahle Sunnat's formal office in Pirokhel village and urged his followers to join it.
Despite many ups and downs in his life, he received a tragic blow when his brother and right hand Hafiz Abdul Azeem, his son Maulana Humayun, his grandson Maulana Nooruddin and son-in-law Bacha Haji were martyred in Jamrud tribal district in 2008 when they were on the way in a car to Jamia Junudia in Karkhano Markets in Peshawar.
His elder son, Hafiz Abdul Malik remained senator while his brother doctor Noorul Haq Qadri remains a Member of Parliament and federal minister.
The life of Sheikh Gul Sahib spent in spreading the teaching of Islam and making more efforts to build religious seminaries. He used to say to the people to admit their children in schools and madrassa so that they could become not only an educated and religious person but he would benefit others too.
Under the guideline and supervision of Sheikh Gul Sahib, his grandson young religious figure Adnan Qadri runs more than 140 Madrassas in Pakistan.
When the family came under attacks after 9/11 and lost four of his near and dear ones Shiekh Gul Sahib shifted along with his family to Islamabad and still live there. Sheikh Gul Sahib was found of isolated life as most of the time remains in his room (Khilwat) to offer prayers and read Islamic books. He could rarely be seen in public gatherings.
Sheikh Gul Sahib was critically ill during the last few years and was admitted to hospitals several times. At last, he breathed his last at the age of 86 years and left this world on Tuesday, December 25, 2018. He left thousands of his followers and relatives mourning behind.
May his soul rest in peace. Ameen.