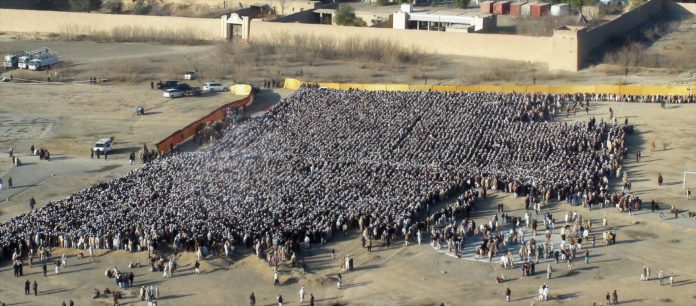 Nasib Shah Shinwari
LANDIKOTAL: A prominent spiritual leader and the father of federal minister of religious affarirs and interfaith harmony Abdul Aziz alias Sheikh Gul Sahib was laid to rest in Landikotal on Wednesday.
According to details a popular Islamic spiritual personality Sheikh Gul Sahib of Pero Khel Darbar who has died on Tuesday night was offered at Hamza Baba park and was later laid to rest at Pero Khel Darbar, a place where his father 'Baba Ji' has also buried.
A prominent Islamic scholar from the holy city of 'Madina Sharif' has also participateد at the funeral prayer of the late Sheikh Gul Sahib. Sources said Fata voice news.
According to eye witnesses more than 15000 thousands people including popular Islamci scholars, religious and political party leaders and the followers of the late Sheikh Gull Sahib participated at the funeral of the late Sheikh Gul Sahib.