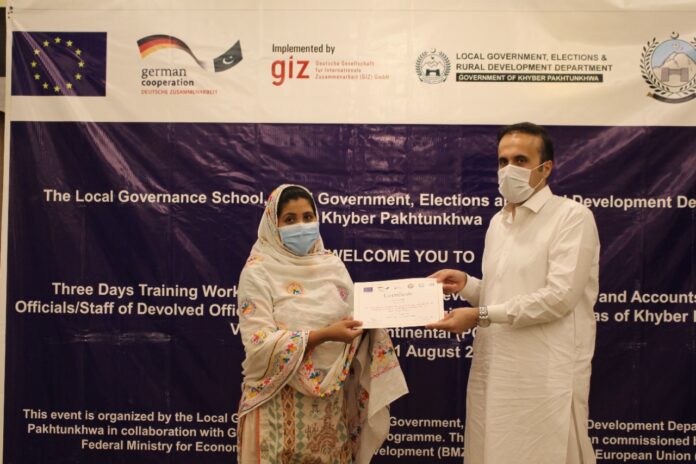 Ashrafuddin Pirzada
PESHAWAR: German Non-profit organization GIZ-Pakistan in collaboration with the Local Governance School (LGS) and the Local Government, Elections and Rural Development Department (LGE&RDD) of Khyber Pakhtunkhwa (KP), organized three pieces of training (3-day each) workshops on the Tehsil Planning, Development, Budget, Accounts & Local Government System for staff and officers of the devolved offices from North & South Waziristan, Khyber, Kurram and Orakzai districts of the KP in Peshawar.
The aim of the extensive training was an effort to smoothly implement the post-merger reforms in tribal districts merged in Khyber Pakhtunkhwa. These training workshops were part of the post-merger reforms initiatives to equip the officers and staff of the devolved offices to gain the necessary knowledge, skills, and expertise for setting up the new local government system in the merged areas and to provide the public with efficient service delivery.
Those who received the training were included but were not limited to officers and staff from elementary and secondary education, social welfare, sports, and youth affairs, agricultural (extension, livestock, OFWM, soil conservation, fisheries), population welfare, municipal services- water and sanitation, rural development, public health engineering, finance and planning and tehsil administration. The first training for officers and staff of devolved offices from Kurram and Orakzai districts was held at the Institute of Management Sciences, Peshawar from 24th-26th August and was inaugurated by Mr. Arif Baloch, Secretary Local Council Board, Khyber Pakhtunkhwa. The second training took place in Peshawar from 29th-31st August, and the chief guest, Mr. Usman Mehsud, Director General of the Directorate of LGE&RDD, awarded certificates to the participants from North Waziristan. While the final training held in Peshawar from 7th-9th September was held for staff and officers from South Waziristan and Khyber districts. Zaheerul Islam, Secretary Local Government as chief guest and Asif, Special Secretary, Khyber Pakhtunkhwa Local government attended the concluding meeting. In total 21 officers and employees of devolved offices from Orakzai, 27 from North Waziristan, 25 from South Waziristan, 20 from Khyber, and 27 from Kurram districts were imparted training. The recipients of the training in various disciplines include Assistant Commissioner, Additional Assistant Commissioner, Additional Assistant Commissioner, Tehsil Municipal Officers, Assistant Sub Divisional Officers, District Educations Officers, District Zakat Officer Social Welfare Department, District Sports Officer, Agriculture Officer, District Director Livestock Department, Soil Conservation, Assistant Director Rural Development, Sub Divisional Officer, Assistant Director Fisheries Department, District Director Agriculture, Deputy Director LGE&RDD, Live Stock and Public Health Department. Arif Baloch, Secretary Local Council Board, Khyber Pakhtunkhwa, and Usman Mehsud, Director General of the Directorate General of LGE&RDD, appreciated GIZ implemented FATA Development Programme and its support in various areas including the development of the business plan for LGS and finalization of other key documents including LGS newsletter, Curriculum development (pre-service training modules), Assessment of Revenue generation in Merged Areas, development of a roadmap for municipalities, a training module for assistant directors, engineers and accounts, training of the officers from devolved offices and elected representatives. The chief guest of the final training closing ceremony Zaheerul Islam, Secretary LGE&RDD Khyber Pakhtunkhwa, extended his gratitude to GIZ Pakistan for its long-standing support to the LGE&RDD in the various capacity and developmental initiatives. "I urged all the training participants to uphold full dedication, sincerity, loyalty and politeness while working in the offices and to transfer the achieved skills and expertise to others.