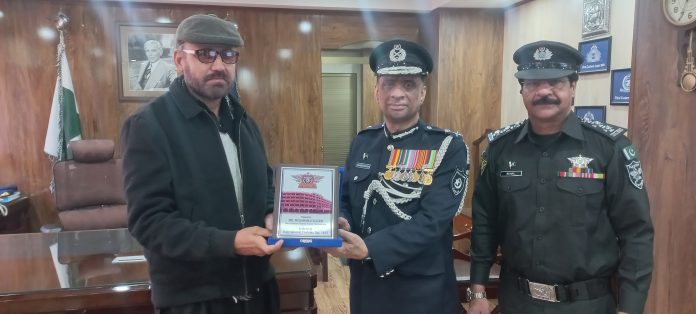 Ashrafuddin Pirzada
PESHAWAR: Chief Collector Customs Khyber Pakhtunkhwa Muhammad Salim on the behalf of Federal Board of Revenue(FBR) chairman awarded shields to Fata Voice, Express News and Geo Television reporters for their outstanding coverage that help enhanced of Pak-Afghan and central Asian trade in the past one year.
A ceremony was arranged at the Chief collector of customs Khyber Pakhtunkhwa office in Peshawar. A number of traders, customs agents clearance agents, traders, customs officials and journalists attended the award ceremony.
Chief collector customs Khyber Pakhtunkhwa Muhammad Salim handed over Khyber Pakhtunkhwa's best reporters' shields to Daily The News International Correspondent Ashrafuddin Pirzada, Geo TV reporter Qazi Fazlullah and Express-News reporter Abuzar Khan Afridi.
Speaking on the occasion Muhammad Salim said that every year FBR and Pakistan customs collectively award journalists in Khyber Pakhtunkhwa who promoted trade with foreign countries. He said this year they had selected three journalists from Khyber Pakhtunkhwa. He said on the behalf of FBR chairman three journalists were awarded.
He said the selected journalists not only gave coverage to import and export ties with Afghanistan and Central Asian states around the year but they also highlighted trade-related issues. He said they encourage journalists to not only highlight Pakistan's customs achievements but they should also pinpoint their weaknesses.
Muhammad Salim thanked Geo and Jang group for their full fledge coverage of Pakistan customs activities that help boost the custom staff's morale for the best results. Earlier, the journalists also met with FBR chairman Asim Ahmad and had a fruitful discussion with him on trade and commerce with Afghanistan.