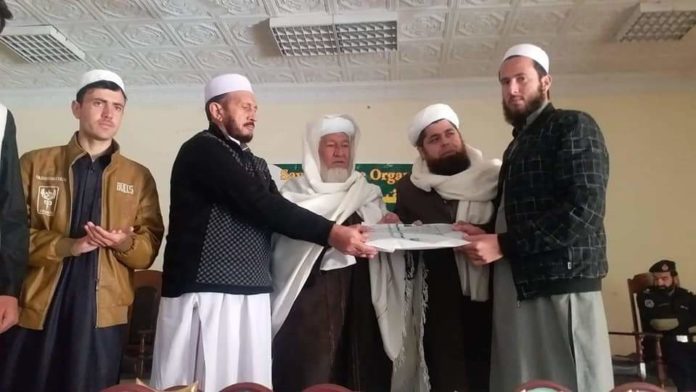 By Ashrafuddin Pirzada
LANDIKOTAL: Saya Welfare Organization conduct a Essay competition on the life of the holy Prophet Muhammad(SAW) and distributed lap tops,mobiles and certificates among the position holder students of different schools in Landikotal.
The prize distribution ceremoney was held at Landikotal Jirga Hall which was attended by a large number of studetlnts,parents,officials and civil society members on Sunday.
The Khyber tribal district Zakat committee chairman Maulana Ihsanullah Junaidi was the chief guest while Awami National party leader Malik Darya Khan Zakhakhel, Muhammad Ilyas Benuri alias Khan Lala,Pakistan People's Party leader Nadeem Afridi and other political parties leaders also attended the ceremoney.
Speaking on the occasion, Saya Welfare Organization Sayed Saliman Benuri said that they had arranged a witten competition in which a good number of students from different schools and colleges students from Landikotal participated. He said none of the nation could go on the way of progress and development without quality of education. He said they want to develop the nation through education for all.
Benuri demanded of the government to establish a modern university in the district Khyber especially for women who could get higher education with the nearest possible location. He said they were doing every possible efforts in the promotion of education but would need the support of every individual who could make difference.
Mulana Ihsanullah Junaidi said that his mission was to enlighten the life of youth with both Islamic and modern education.
He said they under the suppervision and support of federal minister for religious affairs doctor Noorul Haq Qadri run more than two hundred religious in Pakistan.He said and they teach modern and Islamic books to thousands children to adjust with the need of the time.
Junaidi said that gone were the days that religious Madrassas were providing purely Islamic education but with the broad vision the federal minister doctor Noorul Haq Qadri and to bring the seminary graduated at the same level of university. He said they have started Information technology,english and other subjects in their seminaries and in the process to further adopt other modern life subjects in their Madrassas.
He said they feel proud that his seminaries students have took part in different competitions nation wide and excelled in it.
ANP leader Malik Darya Khan Zakhakhel,PPP leader Malikzada Nadeem Afridi and others also spoke and highlighted the importance and value of eduction.
Chief guest at the end distributed lap top,mobile cell phones,school uniforms and certificates among the postion holders.
It may be mentioned here that student of Shinwari college Mujeebullah got first,Army school student Muhammad Bilal second and Muhammad Wasim got third position.
——————————————