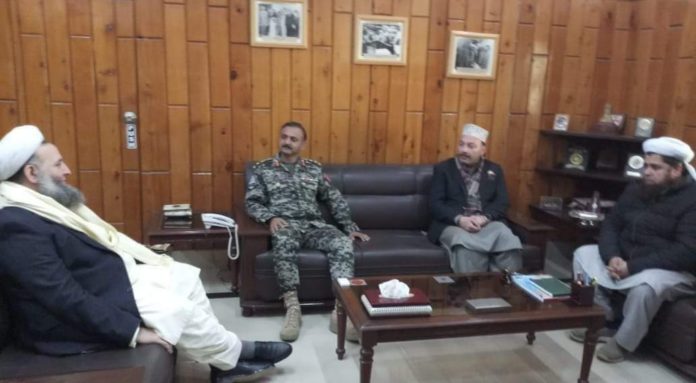 By Ashrafuddin Pirzada
LANDIKOTAL: The federal minister for religious affairs and interfaith harmony doctor Noorul Haq Qadri met with the commandant Khyber Rifles(KR) Colonel Bilal Mehmood here on Wednesday and discussed the death issue of a local resident in the Frontier Corps(FC) custoday,sources said on Wednesday.
The federal minister was flanked by Pakistan Tehreek-e-Insaaf(PTI) leader Ameer Muhammad Khan Afridi and Ihsanullah Junaidi. The minister discussed the various topics including the death of Khatir Khan Shinwari who was arrested in search operation few days ago and died in the forces custoday.
However,initially forces said that the slain person wanted to flee from the custoday and fall down from upstairs and died.While family members and residents accused the Frontier Corps for ture to death the resident.
Qadri demanded of the official to fulfill the required lawful necessities to provide justice to the bereaved family.
The minister also told the security forces officer to release those not guilty in any crime. The federal minister told the army official that they would not support anyone who involved in anti- state or anti-government activities but will strongly support who were innocent.
The Khyber Rifles commandant assured the federal minister said that Pakistan army was the guardian of the Pakistani citizens and will protect them at any cost.
Col, Mehmood told the minister that they would provide justice to the family of Khatir Khan Shinwari who lost his life in the custoday and would release those not involved in crimes.