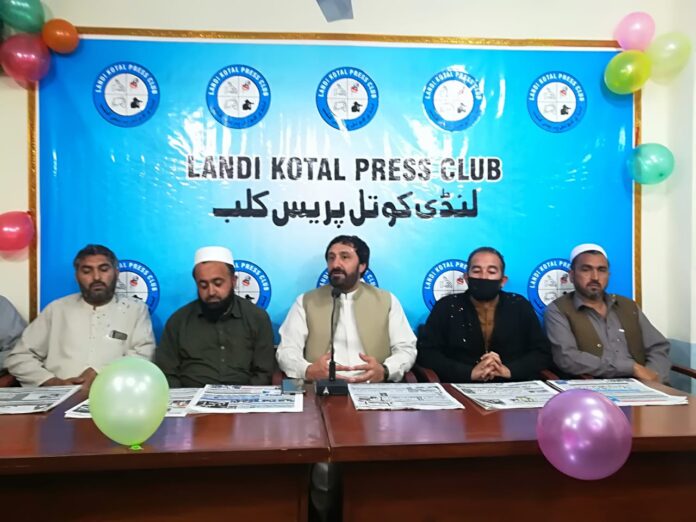 By Ashrafuddin Pirzada
LANDIKOTAL: Federation of Chambers of Commerce and Industries convener for Pakistan and Central Asia Shahid Khan Shinwari has said Torkham is the gateway to central Asian states where a state-of-the-art dry port is underway which would not only enhance trade relations with Afghanistan but it would provide easy excess to the Pakistani exporters to display their goods in central Asian and European countries markets.
Shahid Khan Shinwari, who is also a senior PTI leader and contested national elections, was speaking to "meet the press" here in the district press club in Landikotal said that the PTI-led government wanted to bring ease trade with Afghanistan. He said it was made possible to keep open the Torkham border for seven days a week which was highly appreciated by the Afghan government. He said fifty percent of the work on the Torkham dry port and custom complex has been completed. He said being a trader and central PTI leader he always raised his voice for Torkham's development so that jobs and business opportunities could be created.
"Torkham border remained the hub of import and export but construction work on the various developmental projects slowed down trade activities with Afghanistan in the past few months", said Shahid.
Shinwari said he would soon meet with the Khyber Pakhtunkhwa chief minister Mehmood Khan to discuss the district headquarters hospital issues.
He said Imran Khan's vision is to bring up Pakistan as a socially, developed and politically and economically strong country. He added that soon Pakistan would be in the top ten countries that provide world-class trade facilities to investors.
Earlier, Shahid Khan Shinwari inaugurated the district press club press conference and the cultural hall was renovated recently in the press club.