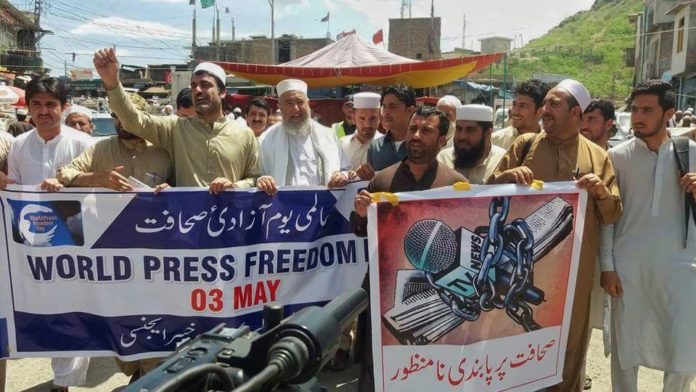 Shamsul-Amin Pirzada
LANDIKOTAL: A score of tribal journalists, local residents, and leaders of different political parties leaders took out a rally to mark World Press Freedom Day on Thursday in Landikotal bazaar.
Holding banners and placards and shouting slogans for press freedom and protection to journalists, they marched from Bacha Khan square to the Landikotal Press Club.
Senior tribal journalist, Farhad Shinwari led the rally.
The local leader of Jamiat Ulema-e-Islam, Mufti Muhammad Ejaz; Jamaat-e-Islami Khyber Agency, Abdur Raoof Shinwari; All Torkham Custom Clearance Agents Association president, Mirajuddin Shinwari; Pakistan People Party, Atta Mohammad Shinwari; Pakistan Tehreek-i-Insaaf, Abdur Raziq, Awami National Party, Shah Hussain, and senior tribal journalists Qazi Fazlullah also spoke on the occasion.
Assistant Political Agent of Landikotal, Niaz Mohammad, and political tehsildar, Shamsul Islam also took part in the gathering.
Speaking on the occasion Niaz highlighted the services and sacrifices of media workers and journalists in the line of duty.
They urged the government to take the necessary steps to ensure the protection of journalists.
The participants also appealed to the governor and federal minister of information to construct the Landikotal Press club building as soon as possible so that the tribal journalists could also have all the rights and facilities like other journalists in Pakistan.