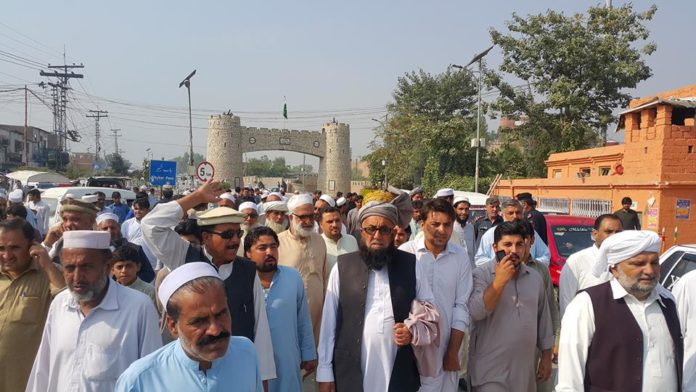 Shamsul-Amin Pirzada
LANDIKOTAL: Residents and tribal elders in district Khyber hurled stones on the vehicle of a senior Khyber Pakhtunkhwa police officer when he was on his official visit to meet assistant commissioners to select sites to establish police stations in Jamrud and Landikotal subdivisions on Tuesday, sources said.
Hundreds of Jamrud residents and elders thronged to the assistant commissioner's office in Jamrud when a meeting between Peshawar Deputy Superintendent of Police(DSP) Rahim Hussain and assistant commissioner of Jamrud Salim Jan Marwat was in progress. Tribal elders and residents were holding black flags and chanted slogans "police system is not accepted to tribal s".They said Khyber Pakhtunkhwa police force personnel was not acceptable to them. They said tribal Khasadars and levies force personnel had rendered sacrifices and fought against militants in the past two decades.
The protesters also broke window panes and doors when a high-level meeting of assistant commissioner of Jamrud and DSP Rahim was in progress.
Extra Khasadars and levies personnel were called to control the mob gathered inside the Jamrud administration compound.
On the hand, residents in Landikotal and Jamrud put heavy stones on the Pak-Afghan highway at Bab-e-Khyber and Takya area and blocked the road for several hours. They chanted slogans against police deployment in the Khyber tribal district.
After the intervention of Jamrud administration officials, the residents end their protest and dispersed peacefully.
Meanwhile, daily wagers staged a protest rally in Torkham bazaar and asked the Chief of Army Staff and prime minister of Pakistan to take notice of the situation at Torkham.
They were holding banners and black flags and demanded the National Logistic Cell(NLC) to stop humiliation of passengers at Torkham border.
The angry protesters gathered at NLC terminal gate at Torkham border and chanted slogans in favor of their demands. They threw stones over Air Conditioners, signed boards and Close Circuit Television(CCTV) Cameras installed in the terminal.
Security forces personnel reached t the site and controlled the. The protesters ended their strike after the security forces convinced the protesters for resolving the matter through dialogues.
Later, Awami National Party activist, Shah Hussain Shinwari flanked by a delegation of local laborers and tehsildar passport, Shakeel Barki met lieutenant colonel, Shahid Niaz, sources stated. They alleged that it was not the NLC legal authority to check passengers' travel documents. They said if NLC employees not stopped their violation at Torkham border they would go on long strike and will install sit-in camp at the front of Landikotal press club.