By Ashrafuddin Pirzada
PESHAWAR: A high-level United Nations delegation Tuesday visited Peshawar and met with the deputy commissioner of newly merged district Khyber at his office, official sources said.
The sources said that the delegation was comprised of UNESCO, UNDP, UNICEF, and other senior UN officials.
The meeting was continued for few hours held st Khyber House, the office of Deputy Commissioner of Khyber located in Peshawar.
The UN delegation discussed various aspects ranging from education to health and organizing the new set up in the districts of erstwhile Fata districts. The UN team also presented on support Programs by all UN Partners Agencies.
Deputy commissioner Mehmood Aslam, who chaired the meeting thanked the UN official and pledged to work with the United Nation for the development of merged districts.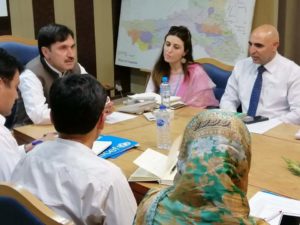 ADC, District Planning Officer and line departments also participated in the meeting.
The meeting was convened to discuss the KPMD Program is initially for two years support to the merged districts of KP with possible three phases over six years support to the merged districts of KP.