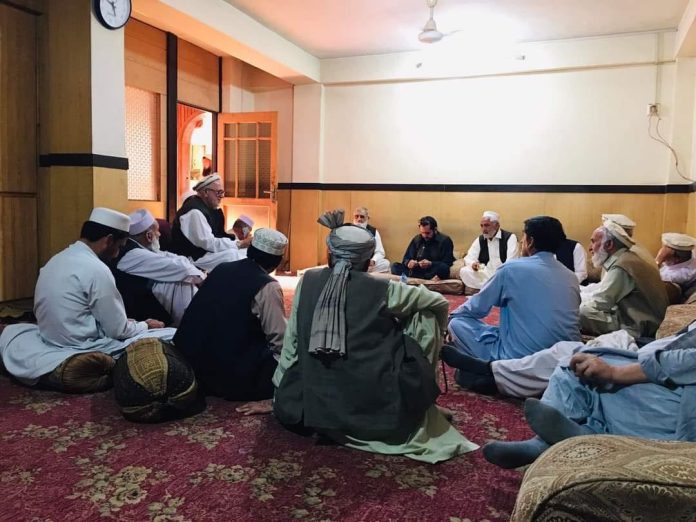 Ashrafuddin Pirzada
LANDIKOTAL: The office-bearers of the Fata Qaumi Jirga on Tuesday asked the government to restore the former status of the Federally Administration Tribal Area (Fata).
The Tribal elders said that the Supreme Court(SC)of Pakistan should constitute a larger bench for the anti-merger case as soon as possible and hear the case.
A consultative meeting of Qaumi Jirga was held at the residence of Malik Wilayat Shah.
Malik Bismillah Khan Kokikhel, Malik Waris Afridi, Malik Khan Marjan Wazir, Malik Azam Khan Mehsud, Malik Nawabzada Fazal Karim Kukikhel, Malik Thamash Khan Shalmani, Malik Sardar Asghar Bar Kambarkhel Malik, Fazlur Rahman, Malik Najibullah, Malik Zarrab Gul, Malik Dawood Shah, Malik Niqab Shah, Haji Samad Khan, Haji Muhammad Hanif, Haji Nasrullah Khan, Malik Nazar, Muhammad Kukikhel and others attended the meeting.
They said the problems had increased after Fata's merger with Khyber Pakhtunkhwa.
They said the merger was imposed on the people of tribals without their consent, which was a big injustice with 12 million tribal people.
The speakers alleged that the merger was carried out under a foreign agenda and the ground realities were ignored while making an unrealistic decision.
They said tribal people had not been taken into confidence before the merger of tribal districts.
The tribal Mashran said those who supported and backed the Fata merger were regretting their decision.
The elders said that they decided to cancel the rally in front of the Peshawar Press Club which they announced on March 9 due to some reasons.
They rejected the forceful and onesided merger of Fata in Pakhtunkhwa province and demanded to reverse the 25th constitutional amendment.