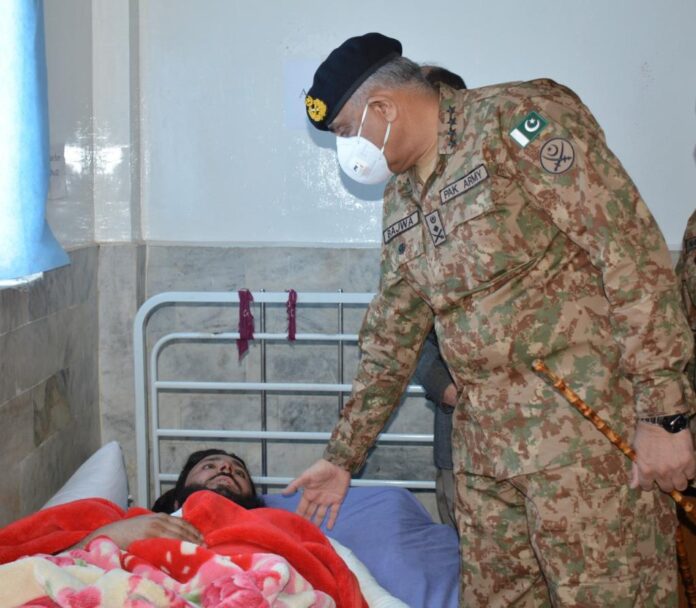 By Correspondent
Rawalpindi: Chief of Army Staff General Qamar Javed Bajwa condemned the recent attack on a Peshawar madrassah where eight were killed and more than 137 injured.
According to Inter-Services Public Relations (ISPR), Chief of Army Staff General Qamar Javed Bajwa visited Upper Dir Malakand Division where he was received by Core Commander Peshawar Lt Gen Nauman Mehmood.
On the occasion, the Chief of Army Staff said terrorism has no religion.
The Chief of Army Staff condemned the recent attack on Peshawar madrassah.
Gen Bajwa said that he was visiting the area to share the grief of the innocent children, who lost their lives in yesterday's attack on madrassah in Peshawar and demonstrate unity.
Gen Bajwa said that innocent children were targeted on December 16, 2014, in APS Peshawar. On the occasion of Black Kashmir Day on October 27, the enemy once again bathed the innocent children of the madrassa in the blood to revive their dark history and nefarious intentions.
COAS directed the troops to remain vigilant as incidents of terrorism in the country have risen during the past couple of days.
The army chief also appreciated the nation for throwing out the narrative of terrorists by displaying unity yesterday.
He vowed to fight against the terrorists and their facilitators till they are weeded out, adding that the militants wanted to spread fear across the country.
Schools, security forces and innocent civilians are the target of the terrorists, he said.
Army chief highlighted that Pakistan had expressed his desire for a peaceful Afghanistan. He also cautioned the Afghan refugees to not be trapped by militants knowingly and unknowingly.