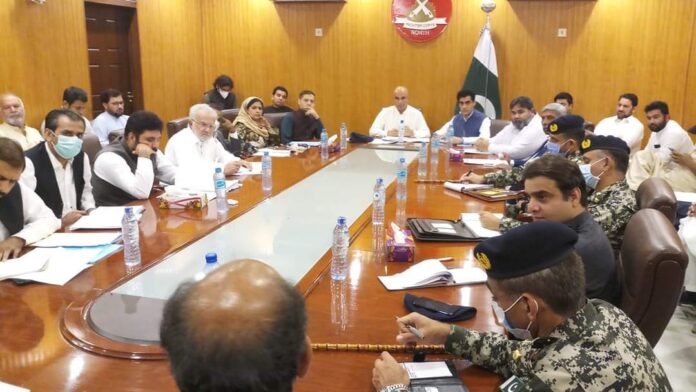 Ashrafuddin Pirzada
LANDIKOTAL: Senate Standing Committee on State and Frontier Regions (Safron)held a line departments meeting at Torkham border town and discussed various issues related to enhance trade and movement from and to Afghanistan,sources said on Monday.
The meeting was chaired by Safron standing commiting chairman senator Taj Muhammad Afridi which was attended by district police officer doctor Muhammad Iqbal,Frontier Corps,Federal board of revenue,custom and national logistic cell officials and other border authorities.
The aim of the meeting was to enhance bilateral trade ties with Afghanistan and bring an ease for those who travel from and to Pakistan.
The meeting widely discussed the constraints and hurdles that had been negatively affecting trade with Afghanistan that dropped enormously Pakistani goods export to Afghanistan in the past few years.
Senator Taj Muhammad directed all the concerned departments offficials to bring an ease for traders,promote export and encourage Afghan businessmen to purchase Pakistani goods. He said after Corona penadamic strict rulles on the name of SOPs were implemented that shrinked down business activities via Torkham border.He said for an unnecessarily condition imposed on truckers.He said due which around five thousand Pakistani trucks stranded in Afghanistan.
Taj said though Corona SoPs had been removed recently this why they want to resume trade with Afghanistan to achieve the goal.
When asked NLC and Torkham custom officials they were of the view that Torkham transport system and clearance is being disturbed due to the construction of Torkham terminal complex which they can not stopped. They said almost the whole Torkham locality is being under construction where buildings, terminals,offices and parks were in the initial stages so that have less space to park load trucks. They said they were focusing to make sure maximum available space for parking lots so that they could park trucks there.
Member FBR said for all Pak-Afghan transit trade a scale machine would be installed in Jamrud which would reduce the burden of traffic flow in Torkham.
At the end of the meeting chairman Saforn senator Taj Muhammad Afridi
directed all officials that within one week they should give him suggestions to enhance trade with Afghanistan. He also stressed upon that every department should work and remain in their own domain.He told the meeting that he would submit the meeting minutes and report to the prime minister Imran Khan.