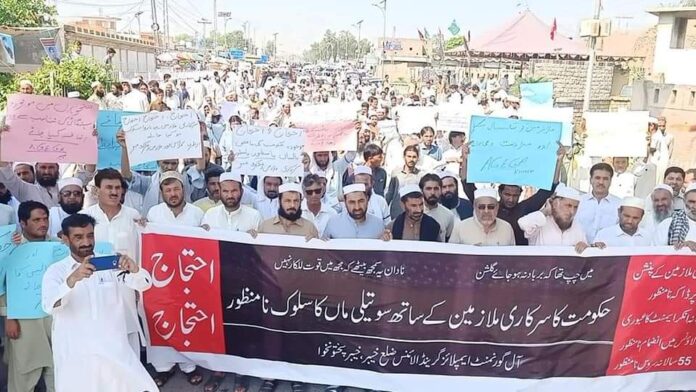 By Ashrafuddin Pirzada
LANDIKOTAL: All Government Employees Grand Allaince Khyber chapter held a protest demonstration out side district education office and rejected the government proposed plan to finish or revise the pension of retired employees.
Hundreds of civil servants from health,education,Wapda and other lines departments participated in the protest. The protest was led by All Teachers Association(ATA) president Naseer Shah Afridi and Sarwar Afridi.
The protesters were holding placards and banners inscibed with slogans in their favour.They also marched from DEO Khyber office and gathered at Bab-e-Khyber.
Speakers including Naseer Shah,Sarwar Afridi,Attiq Khan Afridi and others said that Imran Khan and his party was under the control of International Monitory Fund(IMF) and other world wealth organizations.They said to impose new restrictions and cuts in salaries and pesnsion was the foreign agenda to further push 22 billion Pakistanis under the poverty line.
Naseer Shah said no Pakistani who served for 60 years and contributed all his life for Pakistan' would not accept the proposed pension plan. He said the government should respect each civil servant who gave precious years of his or her life for Pakistan and served.He said that pension is been given in Pakistan only but most of the world countries along with the other retirment benefits regulary issue monthly pensions for their respective retired countrymen.
Sarwar Khan Afridi said that it would be an injustice with the government empliyees to deprivef them from retirement pension as it was the lone source of income for an ailing retired person. He said to feed their families with the monthly pension was the legal and moral right of each Pakistani government servant.
The speakers alleged that Imran Khan want to appease International Monitory Fund(IMF) but putting a lifetime burden on the retired civil servants.
They threatened that the if decision take to reform or revise the government employees pension they would extend their protest to Islamabad.