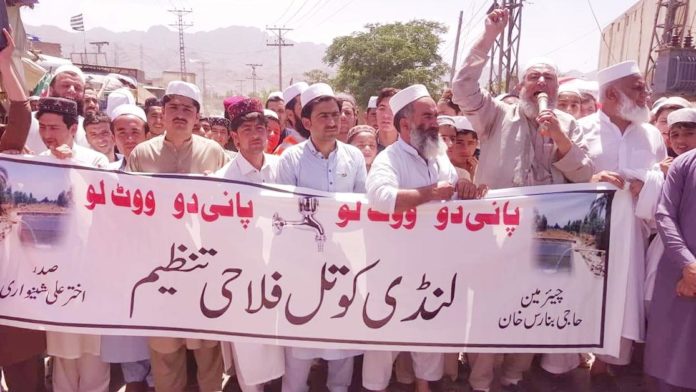 Shamsul-Amin Pirzada
LANDIKOTAL: A score of residents led by Landikotal Falahi Tanzeem Friday staged a protest rally and blocked the road to record their protest against failure of the former members of parliaments to provide safe drinking water.
The protesters,including Landikotal Falahi Tanzeem workers,children and residents first blocked at Zakaria Masjid Chowk on Shalman road and chanted slogans demanding the provision of drinking water to the residents. They were holding black flags and banners inscribed with the sentence that "give them water and take vote".
Speaking on the occasion, independent candidate from NA-43 Zarnoor Khan Afridi said that former MNAs had did nothing for the residents. He said in the past 15 years two ex-parliamentarians had made fake promises and several mega water related projects inaugurated in their respective times. He said none of them could fulfilled their promises.
Landikotal Falahi Tanzeem chairman Haji Banaras Shinwari said that they would convince voters not to cast their votes in the coming election. He said they several times requested the ex-MNAs and the civil authorities to work on the provision of water for the local residents. He said a large number of families already shifted to other areas due to scarcity of water in Landikotal. Banaras said they would announce boycott from the election if their demand was not accepted.
He said thousands of residents were facing scarcity of drinking water but the election candidates were spending million of rupees on their election campaign. He said those contesting election were not sincere with their voters as the lone water problem could not be addressed.
Later in the assurance of local Jirga the protesters dispersed peacefully and resumed traffic flow on the road.