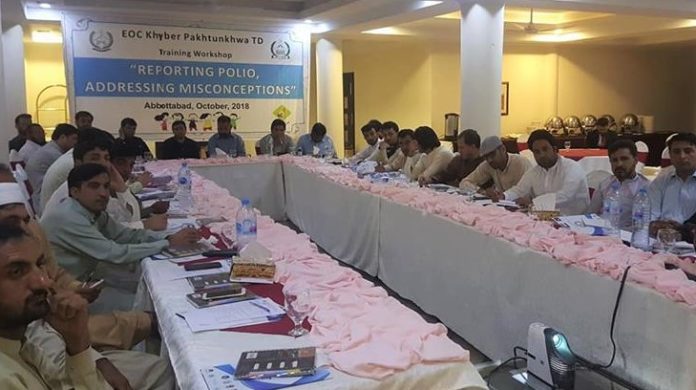 Shamsul-Amin Pirzada
LANDIKOTAL: Khyber Pakhunkhwa government in collaboration with World Health Organization arranged a day-long workshop for media persons on Wednesday in which speakers termed media role a must to make Pakistan a polio-free country and save millions of children's life from time disability.
The theme of the workshop was to highlight that polio was a highly contagious viral disease that can spread through person to person.
Around 27 journalists from Khyber tribal district and Peshawar participated in the workshop.
Speakers including assistant director and polio program manager doctor Iftikhar, R,Mansoor,journalists Mehmood Jan Babar,Saifullah Gul,Dr Fawad Alu Khan,Dr Hamid Mohmand and others said that Pakistan was the second last country in the world After Afghanistan that still had to go to root out polio virus.
They said in 2018 only four polio cases had been registered in Pakistan. They said 0.5 percent of polio infected children suffer disability while the 95 percent polio infected children recover after they get proper medical treatment.
Dr Mansoor said in last September they had registered 1526 refusal cases from all tribal districts. He said after the health and civil administration officials the number of refusals dropped to 252. He said 44 families in Khyber tribal district were reported to health department.
Journalists Saifullah Gul and Mehmood Jan Babar urged media persons to work side by side with health department.
"It was not possible to avoid media role to motivate and remove misconconception of some walks of life about the polio vaccins", said Mehmood Jan Babar. He said journalists and health workers have played an important role in the past that reduced the number of polio cases in Pakistan.
Safiullah Gul said Afghanistan was the second country wherefrom 15 polio cases registered. He said Pakistan it belief that polio virus was being transported from Afghanistan.
Dr, Mansoor said South Waziristan was an area where they had to use their double efforts to reach every child. He said they were also starting measals vaccination campaign on September 15.
The speakers urged media to play their dye role and help declare Pakistan a polio free country.