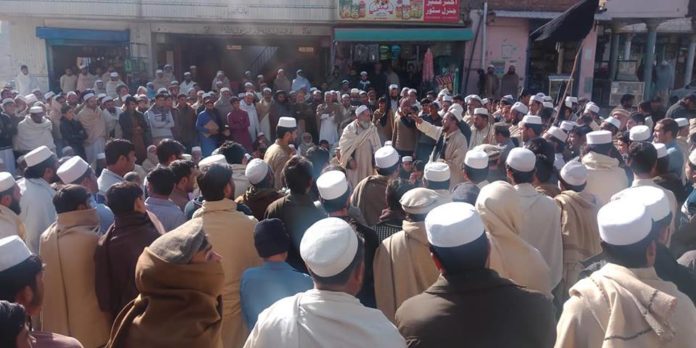 Shamsul-Amin Pirzada
LANDIKOTAL: To record their protest against the security forces raids on the notables' homes, hundreds of residents in Sultankhel came out on Pak-Afghan road and staged a protest rally in Landikotal on Tuesday.
Amir Afridi,Mehmoob Alam, and Mustaqil Khan led the protest and marched on the Pak-Afghan highway chanting slogans against the illegal raids on their homes and other compounds.
They marched from Kbyber Walikhel and gathered at Sultankhel Markets. They also blocked the road for all kinds of movement for several hours.
Speaking on the occasion, Amir,Mehmoob, and Mustaqil termed the security forces raids an illegal act and violation of tribal customs. They said it was not in any law of the land that without serving a prior notice to conduct a raid and harass inmates.
Condemning the security forces raids the speakers said the Jewish and Indian forces never violated to enter homes in Palestine and Indian held Kashmir.
They said when the security forces wanted to conduct raids in the area should take the officials of the local administration and tribal elders onboard. The protesters threatened to show their resistance as they not allow to enter to their homes without any legitimate cause.
The protesters accused members of the parliament from NA-43 to speak about it and raise an objection on the violation at the floor of the parliament.
They also criticized the silence and helplessness of the civil administration regarding the issue.
The speakers demanded of the military top brass to take notices of the illegal raids. They added that if their voice was not heard they would conduct their protest at the front of Bala Hisar in Peshawar.