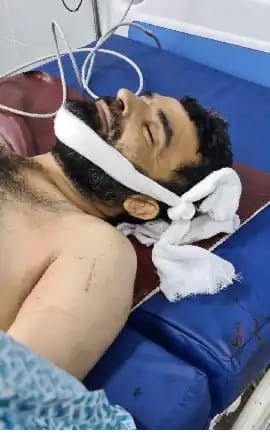 By Ashrafuddin Pirzada
LANDIKOTAL: A disabled resident of Landikotal, who caught in fake case, died due to Peshawar central jail authorities' ignorance, family member said on Thursday.
Yadullah Shinwari said his younger brother Rehmanullah,39, was in jail for the last five years. He said his brother was disabled with his one leg and suffering from chronic chest and stomach diseases.
He said they tried their best to take permission from police authorities to take his brother to a hospital in Peshawar but could not get the permission.He said they had no money to pay bribe to Police officials and the doctor in Peshawar central jail as they always demanded money from them.
"My brother told me in the month of Ramazan that he is not well and he should be taken to a doctor outside the jail",Yadullah said. He added that few days ago bleeding started from his mouth and nose of Rahmanullah but he was not provided proper medial care to him. He said due to inhuman attitude of Jailer younger breathed his last on Thursday.
Yadullah said that jail authorities were not providing his brother a proper medical treatment on time despite his serious health condition.The elder brother of ill-fated Rehmanullah said that he also met with the jailer Khalid Abbas and the jail doctor dr pervez to provide a proper treatment to his brother but to no avail.
This scribe much tried to get versions of the jailer and the doctor but could not reached to them.
The family members of Rahmanullah appealed to the Chief Minister and IGP of Khyber Pakhtunkhwa and other concern authorities to conduct inquiry of the death and register FIR against jailer Khalid Abbas and jail doctor Dr Pervez who allegedly killed Rehmanullah.
Jameat Ulema-e-Islam(F) erstwhile spokesman Qari Jehad Shah Afridi and Jamat-e-Islami Landikotal Ameer Murad Hussain Afridi and JI senior leader Qari Said Hakim condemned the tragic death of Landikotal resident. They said it was the responsibility of the government and jail authorities to extend their mercy to a human life in which they failed and did a murder of a disabled person.