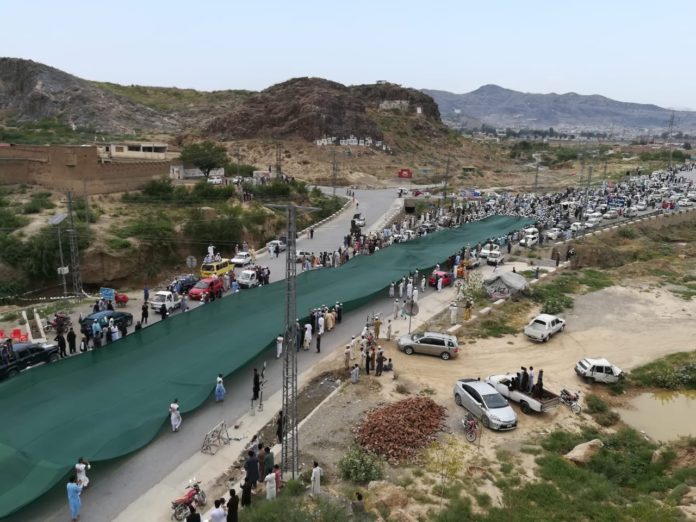 By Ashrafuddin Pirzada
LANDIKOTAL: Like the other parts of the country and around the world,tribal people also celebrated independence and Kashmir solidarity day with great pump and show on Wednesday.
A number of programmes were organized in Khyber tribal district where the historical Bab-e-Khyber was lighted with thousands of small bulbs and fire works were done in Jamrud and Torkham border on the night of 14th August.
National anthem was played at all national day celebration events in connection with Kashmir independence.
Speaking on the occasion,deputy commissioner of Khyber Tribal district Mehmood Aslam Wazir said that India violated UN resolutions that respect rights from its citizens.He said Modi with his anti Muslims and anti Kashimiries attitude disturbed the whole world. Mehmood said India should know that Pakistani nation and its army will stand by the Kashmiries and will not tolerate any untoward action if taken against Pakistan.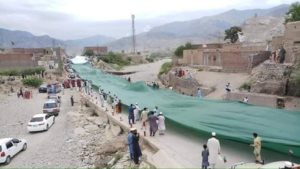 The official praised Shakir Afridi,the local transporters and social workee,that he made a world largest Pakiatani flag that made world record.
He said Shakir made 1100 meters long national flag that showed that tribals are loyal to their motherland. He added that Pakistani nation would be side by side with Pakistan army if India impose war on them. He asked India to stop its brutalities over innocent Kashmiries people whoes rights have been violated.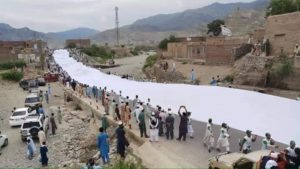 Meanwhile, Pakistan's Prime Minister Imran Khan addresed the Azaad Kashmir national assembly in Muzafarabad.Imran Khan said Pakistan not want to wage war against any neighour countey but if India take action against Pakistan would be repulsed with all their force and capibility.
"If Modi again play a Pulwama type of game and again try to attack Pakistan would be delt with Iron hands",said PM Khan.He added that Modi and his government is planimg to conduct another fake incident inside India and will blame and put all its responsibilty on Pakistan. He said they have confirmed informations that Modi wants to make conspiracies against Pakistan so that he could isolate Pakistan in the world level and wage war on them. He warned Modi that do not think of attack on Pakistan because Pakistani army and its all citizens are well prepared to defend their country.
Imran Khan assured Kashmiri people that their cause for freedom would be take up in all forums. He said they will fight for Kashimiries freedom until the last drop of the blood.
PM Khan repeatedly asked Narendra Modi to think twice before go any hostility against Pakistan because Muslims beleive that if anyone wage war on them should be fought happily.
He asked the UN that it was their trial to stop wars across the world and Modi would be responsible if he did any wrong. He added that war between Pakistan and India would not only suffer people of these two countries but all world would affect of it. Khan is Pakistan will teach a lesson to India that would be remembered for long.
president of Pakistan Dr Arif Alvi while speaking on the day of indepemdence and Kashmir day that India must respect the self determination of Kashimiri people. HE said when all political and other ways not work than the holy war(Jihad)is the ultimate way to fight for independence and solidarity of Muslims.