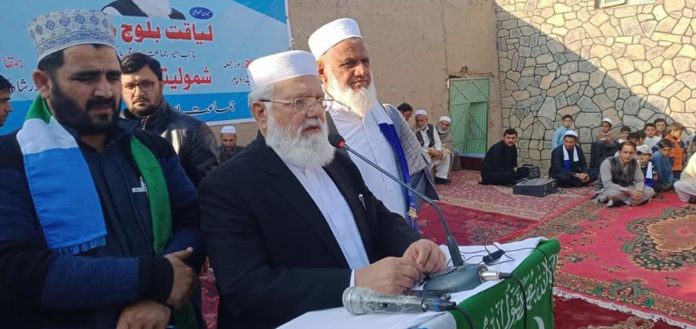 By Ashrafuddin Pirzada
LANDIKOTAL: Jamat-e-Islami(JI) central Naib Ameer Liaqat Baloch on Friday said that Pakistan Tehreek-e-Insaf failed to deliver as took vote on the slogan of change but the government had taken loaf of bread from the mouth of poor citizens.
JI Naib Ameer Liaqat Baloch was speaking to a public gathering in Sadukhel village of Landikotal. He said prime minister Imran Khan has given the country in the mercy of Ineternational Monitory Funds(IMF).He said Pakistan's economy was shrinking down while Imran Khan and his cabinet members live a luxurious life.
Liaqat Baloch asked the PTI led government to fulfil the pledge with the tribal people and issue 100 billion rupees for the development of tribal districts.He said soon JI would launch countrywide protest against corrupt eliminats and price hikes.He said establishment should address peoples' grievences rather to impose corrupt folk who suck blood from Pakistani citizens.
"When PTI came into power lawlessness,corruption,injustice and poverty further deep rooted in Pakistan that severely suffered every day life",said JI leader. Adding that those who created flour and other edibles crices in Pakistan were sitting in parliament with the rulling party.
He said Jamiat Ulema-e-Islam(F) chief Fazlur Rehman had admitted that he was decieved by PPP and PML-N leaders.He trust deficit between political parties gave free hand to PTI to play with the lives of Pakistanis. He said bad governance had become bone of contention that irked life in the country.
Liaqat Baloch said independence of Indian occupied Kashmir was a due debt on the government and army as innocent Kashmiries looking for their help.
JI leader asked Afghan citizens that they should stop fighting as war never end with prosperity but it always left distruction and poverty. He said peace in Afghanistan was inevitable for peace in Pakistan. He said Afghan nation should decide their own fate and other countries must stop using their proxies to prolong war in Afghanistan.
He said tribals were being still stopped at check posts and body searched and asked which was condemnable.
JI leaders Abdul Basit, Haji Miqtadar Khan Afridi,Murad Hussain also spoke on the occasion.